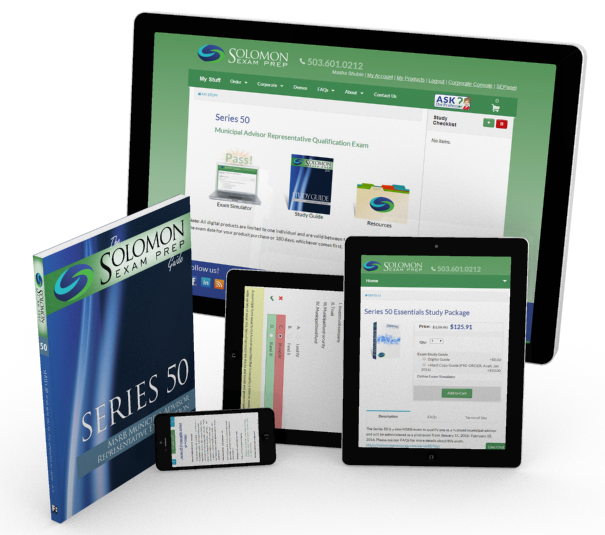 Solomon Exam Prep has been diligently preparing study materials for the Series 50 exam since the MSRB's announcement of its new Municipal Advisor Representative Qualification Exam. An initial pilot exam will be taking place from January 15, 2016 – February 15, 2016. We are happy to announce that our Series 50 study materials are now available to give you plenty of time to study before taking the pilot exam!
Solomon Exam Prep is happy to offer both an Exam Study Guide (digital w/ hardcopy to follow, available for pre-order now) and Online Exam Simulator for the Series 50 exam. You can purchase all the tools you will need to pass in our Series 50 Essentials Study Package and save 10%!
We encourage those needing to take the new Series 50 exam to take the Series 50 pilot exam. This is a great opportunity to take the new exam without any penalties for a failure – the enrollment window is open until January 14, 2016. For more information on the Series 50 pilot exam, see the MSRB website.
We will continue updating our Series 50 materials as the exam becomes more established during and after the pilot exam, and we look forward to helping you pass!