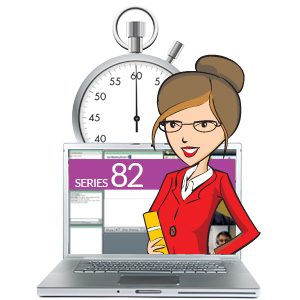 We are proud to announce the release of a brand new on-demand study course for the Series 82, FINRA Limited Representative-Private Securities Offerings Qualification Exam. Earlier this year we released a brand new study guide to pair with our online exam simulator and now we are happy to further add to our product offerings with this on-demand study course.
The Series 82 On-Demand Study Course is split up into sections, to mirror the Series 82 exam outline and can be purchased as an individual product or as part of our Premium Study Package. Here is an outline of the videos that are included in our on-demand offering:
Section 1: Characteristics of Corporate Securities
Equity Securities – Stock
Debt Securities – 1
Debt Securities – 2
Other Equity Securities
Section 2: Regulation of the Market for Registered and Unregistered Securities
Types of Offerings
Investment Banking Communication
Public Offering Rules
Safe Harbors from Registration
Private Placements
Introduction to the Secondary Market
Prohibited Trading Practices
Section 3: Analyzing Corporate Securities and Investment Planning
Economics
The Income Statement
The Balance Sheet
The Cash Flow Statement
Section 4: Handling Customer Accounts and Industry Regulations
Customer Accounts
General Industry Standards
General Industry Standards – 2
About the Series 82 exam:
The Series 82 FINRA Limited Representative-Private Securities Offering Qualification Examination, qualifies an individual for the sale of private placement securities as part of a primary offering. The exam is 100 questions in length and is taken over a period of  2.5 hours; a score of 70% is required to pass the exam.