What is the Series 3 exam?
The Series 3, also called the National Commodities Futures Examination, is an NFA (National Futures Association) exam. NFA is the self-regulatory organization for the U.S. derivatives industry and is designated by the Commodity Futures Trading Commission (CFTC) as a registered futures association. The goals of the NFA are to ensure the integrity of the derivatives markets, protect investors, and enforce regulations.
Individuals and entities that do business as futures professionals must register with the CFTC and meet certain proficiency requirements. This usually means passing the Series 3 exam.
You may need to take the Series 3 exam in order to work as an associated person at one of the following:
Futures commission merchant (FCM)—a brokerage firm that solicits orders from customers and executes trades. It may also provide credit to its customers to enable trading.
Introducing broker (IB)—a brokerage firm that solicits orders from customers but is not permitted to execute them. It must send its orders to an FCM to execute and clear the trades.
Commodity trading advisor (CTA)—an individual or firm that analyzes futures markets, issues reports, offers advice, and makes recommendations.
Commodity pool operator (CPO)—an individual or firm that solicits funds from the public and pools them into a single account to invest in futures contracts.
Retail foreign exchange dealer (RFED)—an individual or entity that acts as a counterparty to an over-the-counter foreign currency transaction.
What does the Series 3 qualify me to do?
Passing the Series 3 exam qualifies you sell commodities, futures contracts, or commodity pools. The term "sell" includes soliciting customers, customer orders, customer funds, or customer accounts on behalf of the entities listed above. It also qualifies those who work for a CTA to analyze, issue reports, and offer advice on futures markets. You'll also be qualified to manage other individuals who sell commodities or futures contracts.
Note that simply passing the Series 3 exam does not allow you to act as a registered commodity broker. You'll also need to complete a lengthy online registration application with the NFA, which includes submitting a fingerprint card and other required filings.
Are there any prerequisites for the Series 3?
There are no prerequisites for the Series 3 exam, and you can enroll to take the exam without firm sponsorship. You must sign up for the exam and pay the exam fee to the Financial Industry Regulatory Authority (FINRA), which administers the Series 3 exam.
About the Exam
The Series 3 exam consists of 120 scored and five unscored multiple-choice or true/false questions. The five unscored questions are experimental questions and appear randomly.

Note: Scores are rounded down to the next lowest whole number (e.g. 69.9% would be a final score of 69% – not a passing score for the Series 3 exam).
Topics Covered on the Exam
The NFA divides the questions on the Series 3 exam into two parts. The first part, covering market knowledge, includes several topics. The second part covers U.S. regulations and includes only one topic. The NFA updates its exam questions regularly to reflect the most current rules and regulations. You must receive a score of 70% on both parts of the exam to pass.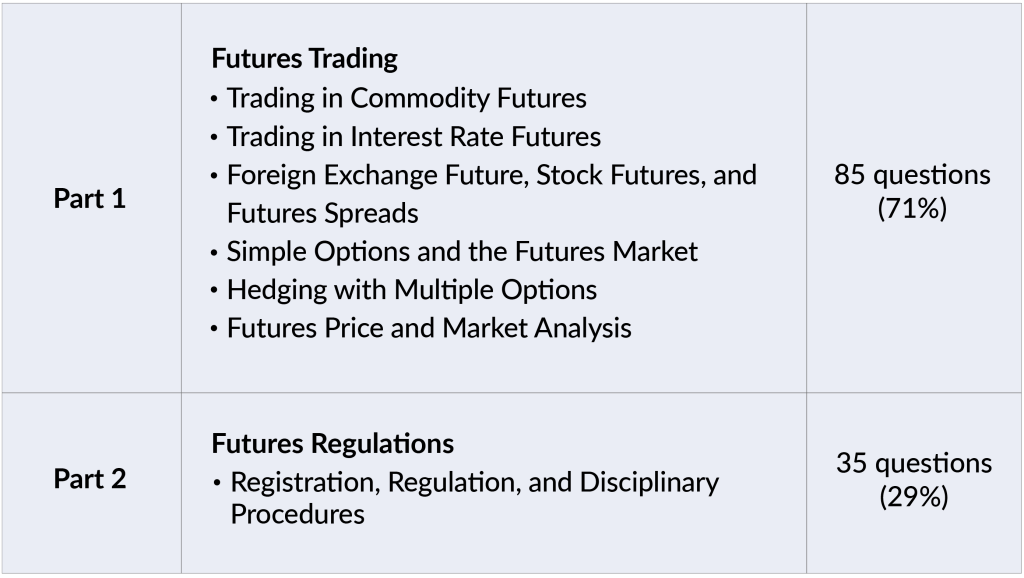 Question Types on the Exam
The Series 3 exam consists of multiple-choice questions, each with four options. You may see the following question structures. However, keep in mind that these sample questions don't necessarily represent the difficulty level or subjects covered in the actual exam.
Closed Stem Format:
This item type asks a question and gives four possible answers to choose from.
Which of the following is not classified as a commodity?
Livestock

Automobiles

Corn

Oil
Incomplete Sentence Format:
This kind of question has an incomplete sentence followed by four possible conclusions.
All foreign exchange futures contracts are quoted in:
American terms

European terms

The same terms in which the foreign currency is quoted in the spot market

American and European terms side by side
"EXCEPT" Format:
This type requires you to recognize the one choice that is an exception among the four answer choices.
All of the following are characteristics of a Treasury bill except:
They are sold at discount to the par value.

They pay low periodic interest payments.

They are considered the safest of Treasury securities.

They have a maximum 52-week maturity.
Complex Multiple-Choice ("Roman Numeral") Format:
For this question type, you see a question followed by two or more statements identified by Roman numerals. The four answer choices represent combinations of these statements. You must select the combination that best answers the question.
A forward conversion combines which two of the following?
A long futures contract
A short futures contract
A short call and a long put on the futures contract
A long call and a short put on the futures contract
I and III

I and IV

II and III

II and IV
This format is also used in items that ask you to rank or order a set of items from highest to lowest (or vice versa), or to place a series of events in the proper sequence.
Put these futures contract events in the proper sequence:
Last delivery date
First delivery date
First notice date
Last trade date
IV, II, III, I

III, II, IV, I

III, IV, II, I

II, III, I, IV
Answers: 1. B   2. A   3. B   4. A   5. B
Taking the Series 3 Exam
You can take the Series 3 exam at a Prometric test center or remotely online using Prometric's ProProctor system. If taking the exam at a test center, you will receive any materials you need to complete the exam. These may include a whiteboard with markers or scratch paper and a pencil, as well as a basic electronic calculator. The inspection and sign-in requirements at test centers are stringent, so plan to arrive at least 30 minutes before your scheduled test appointment.
If you decide to take the test online with ProProctor, you should learn about the strict procedures you must follow. See this ProProcter user guide or the FINRA online testing page for complete details. And for a first-hand account of the remote testing experience, read this Solomon blog post.
Test-Taking Tips
Whether you take the exam at a test center or online, it helps to keep some test-taking strategies in mind. Try not to spend too long on one question—this may cause you to run out of time and not get to other questions you know. If you don't know the answer to a question, take your best guess and flag it. There's no penalty for guessing, so it's beneficial to answer every question.
After you've finished all the questions, you can return to any flagged questions. This strategy allows you to efficiently answer the ones you know. You might also learn something later in the exam that helps you answer an earlier question. Just remember to save enough time to return to the questions you didn't answer. However, it's not a good idea to simply skip all of the difficult questions with the plan to answer them later. You should make a serious effort to answer each question before moving on to the next one since your thoughts are often clearer earlier on during the exam.
How to Study for the Series 3 Exam
Follow Solomon Exam Prep's proven study system:
Read and understand. Read the Solomon Study Guide carefully. Many students read the Study Guide two or three times before taking the exam. 
Take chapter quizzes in the Exam Simulator. When you finish reading a chapter in the Study Guide, take 4–6 chapter quizzes in the Exam Simulator. Use these quizzes to give yourself practice and to find out what you need to study more. Make sure you read and understand the question rationales.
Take full practice exams in the Exam Simulator. When you've finished reading the entire Study Guide, review your handwritten notes once more. Finally, start taking full practice exams in the Exam Simulator. Aim to pass at least six full practice exams and try to get your average score to at least 80%. When you reach that point, you're probably ready to sit for the Series 3 exam.
Use these effective study strategies:
Take handwritten notes. As you read the Study Guide, take handwritten notes and review your notes every day for 10–15 minutes. Studies show that taking handwritten notes in your own words and then reviewing them strengthens learning and memory.
Make flashcards. Making your own flashcards is another proven method to reinforce memory and strengthen learning.
Research. Research anything you don't understand. Curiosity = learning. Students who take responsibility for their own learning by researching anything they don't understand get a deeper understanding of the subject matter and are much more likely to pass.
Become the teacher. Studies show that explaining what you're learning greatly increases your understanding of the material. Ask someone in your life to listen and ask questions, or explain it out loud to yourself. This helps almost as much as explaining to an actual person (see Solomon's previous blog post to learn more about this strategy!).
Take advantage of Solomon's supplemental tools and resources:
Use all the resources. The Series 3 Resources folder in your Solomon student account has helpful study tools, including a detailed study schedule that you can print out. Or, use the online study schedule and check off tasks as you complete them.
Use Ask the Professor. If you have a content-related question, click the Ask the Professor button in your account dashboard and get personalized help from a Solomon professor.
Good practices while studying:

Take regular breaks. Studies show that if you're studying for an exam, taking regular walks in a park or natural setting significantly improves scores. Walks in urban areas or among people did not improve test scores.
Get enough sleep during the period when you are studying. Sleep consolidates learning into memory, studies show. Be good to yourself while you're studying for the Series 3: exercise, eat well, and avoid activities that will hurt your ability to get a good night's sleep.
You can pass the NFA Series 3 Exam! It just takes focus and determination. Solomon Exam Prep is here to support you on your path to becoming a Futures Professional!
Explore all Solomon Exam Prep Series 3 study materials, including the Study Guide and Exam Simulator.
And join the Solomon email list to hear about new product releases, industry news, and more! Just click the button below: