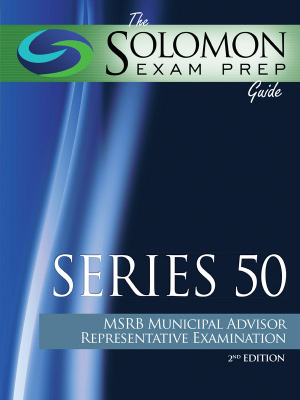 Solomon Exam Prep has published study materials for professionals required to take the upcoming Series 50 permanent exam. 
Portland, OR, August 22, 2016. After helping hundreds of individuals study and pass the MSRB Series 50 Pilot Exam, Solomon Exam Prep is proud to present a new, revised, and updated Series 50 exam prep program. The new program contains over 1,250 original practice questions.
"We were pleased with our students' success on the Series 50 pilot exam: an 93.87% pass rate versus the national Series 50 pass rate of 84%.  And we are excited to announce the launch of the Solomon Series 50 exam prep program," said Jeremy Solomon, president of Solomon Exam Prep.  "The MSRB updated and revised their Series 50 exam content outline and we responded to the regulators' exam content changes, as well to student feedback from the pilot exam. For example, we added and updated material on MSRB Rules G-20, G-37, and G-42 governing activities of municipal advisors," said Jeremy Solomon.
The Solomon Exam Prep Series 50 study program includes a Series 50 Exam Guide (digital and hard copy), a Series 50 Exam Simulator, and a Series 50 Video Lecture. Solomon Exam Prep's innovative technology lets students study anytime, anywhere.
Informed by Professor Karen Solomon's Ph.D. research on learning and memory, Solomon study materials emphasize learning then practicing, learning then practicing . . . With over 1,250 original practice questions, Solomon Series 50 students have a deep and robust pool of practice questions to hone their Series 50 exam knowledge and give them the active knowledge they need to pass the test. "Practice really does make perfect," says Jeremy Solomon.
Important Things to Know about the Series 50 Exam
Launch date: September 12, 2016
Number of questions on the exam: 100
Passing score: 71%
Time to take the exam: 180 minutes
Exam fee: $265
Registration form: U4 for FINRA members or U10 for non-FINRA members
Exam location: Pearson VUE or Prometric testing centers
Who must take the exam: According to the MSRB, "a natural person associated with a municipal advisor who engages in municipal advisory activities on the municipal advisor's behalf, other than a person performing only clerical, administrative, support or similar functions, must qualify by examination as a municipal advisor representative."
Five decades in the muni business didn't guarantee I'd pass the Series 50 pilot exam. (Just knowing content doesn't mean you are ready for the test.) Thankfully, my Solomon Exam Prep materials were fantastic at teaching complex subject matter in a way that made the answers clear, and I passed the test with ease.
If you plan to take the Series 50 exam, then I strongly recommend that you give yourself the edge that Solomon's study materials provide.  
John Canney
Municipal Advisors Group
Boston, MA
MEDIA CONTACT
Tim Kerlin
Solomon Exam Prep
6750 SW Franklin St.
Portland, OR 97223
(503) 601-0212
tim@solomonexamprep.com
http://www.solomonexamprep.com