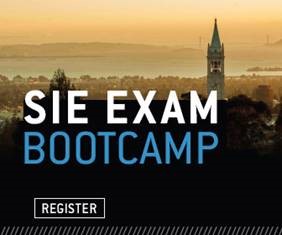 Solomon Exam Prep is pleased announce a joint venture with University of California, Berkeley: SIE Exam Bootcamp! This intensive, four-day, live class will prepare you for a career in the securities industry!
What is the SIE?
SIE stands for Securities Industry Essentials. The SIE is a fundamental exam that will launch on October 1st, making it easier for everyone to enter the securities industry. It is the new co-requisite for many FINRA licensing exams, including the Series 6, 7, 22, 57, 79, 82, and 99. The SIE Exam Bootcamp will cover every topic in the SIE exam:
1. Equity Securities
2. Debt Securities
3. Investment Companies, Life Insurance Products, & Other Packaged Securities
4. Options & Alternative Investments
5. Risk, Disclosures, & Taxation
6. Issuing Securities: The Primary Market
7. The Securities Markets
8. Customer Accounts
9. Prohibited Activities and Conduct Rules
10. Regulatory Responsibilities
Why the SIE?
Starting October 1st, passing the SIE will be the first step to getting licensed in the securities industry. If you want to get ahead of the curve, or if you need a better grasp of the basics of securities and the markets, the SIE exam course will be a thorough and valuable introduction. Students will also be provided with comprehensive study materials from Solomon Exam Prep and continued tutoring options upon completion of the SIE Exam Bootcamp.
How Can I Take The Class?
The UC Berkeley SIE Exam Bootcamp will take place August 6-9 on the UC Berkeley campus.
For more information, go to: https://executive.law.berkeley.edu/custom-options/sie-exam-bootcamp/