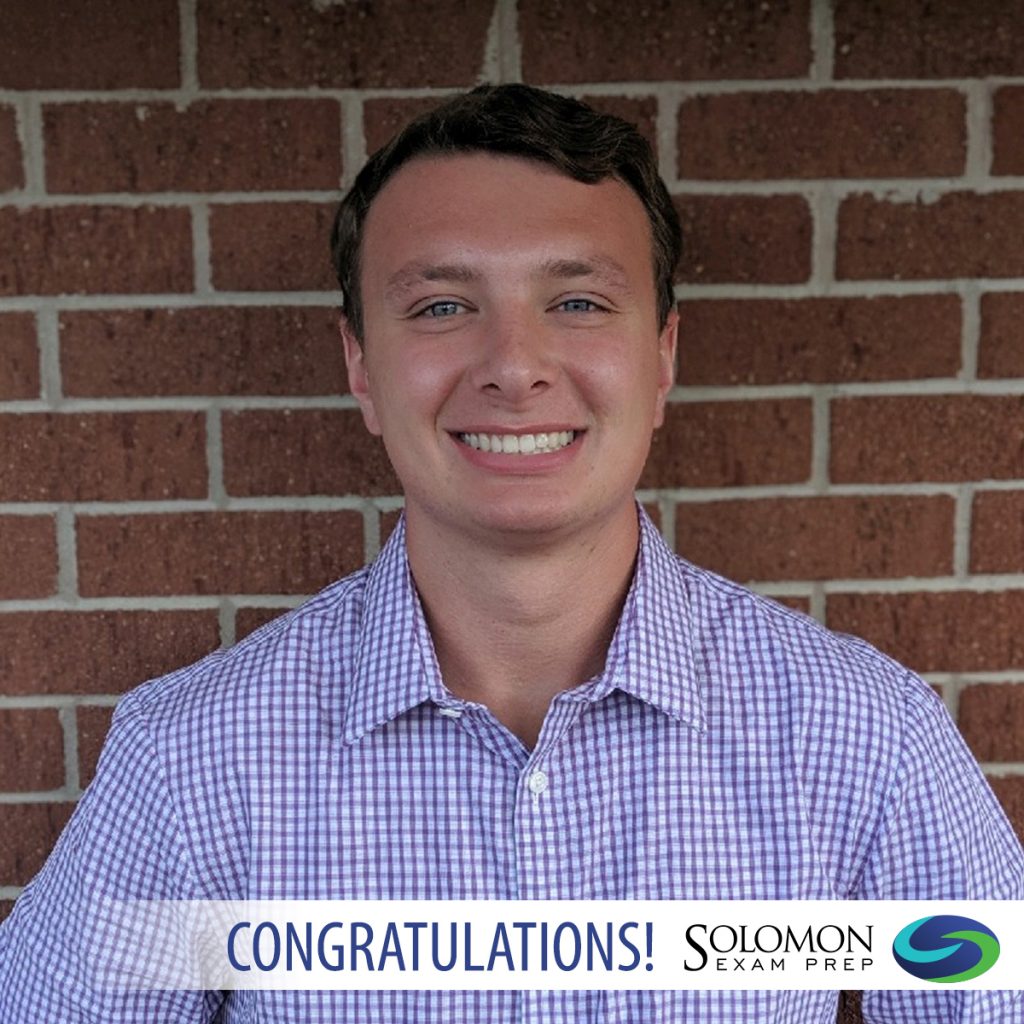 Dominic Mamrega is a finance major at High Point University in High Point, North Carolina. Dominic studied for the Securities Industry Essentials (SIE) exam in a self-study program using Solomon Exam Prep SIE materials. We interviewed Dominic after he passed the exam.
Solomon Exam Prep: Why did you decide to study finance and what is your dream job?
Dominic: I decided to study finance because growing up as a triplet my parents taught me the value of a dollar and how to properly save your money. It wasn't easy for my parents, they had to buy three of everything. My father is great with numbers and taught me how to properly manage my money. My dream job has always been as a financial advisor/planner. There are many people who need financial help and I wanted to make a change.
Solomon Exam Prep: Why did you decide to take the SIE exam?
Dominic: I decided to take my SIE for two reasons. The first reason was I wanted to have an edge when applying to jobs and get ahead of the pack. The other reason I decided to take the SIE was I have a good friend who recently graduated HPU who is also in the field of finance and told me to get the ball rolling in order to land a job when I graduate in May 2021.
Solomon Exam Prep: Where do you work now and how did you get there?
Dominic: My current job is on campus working in the IT department which isn't that exciting, and I got there by applying to every job on campus and waiting to hear back from one. My upcoming job when I graduate will be with Allied Wealth Partners as a Financial Advisor. I got there by looking at LinkedIn daily for job postings and applying to every single one. I went through the interview process with a few firms and had a great connection with Allied.
Solomon Exam Prep: How has the SIE helped you in your current job?
Dominic: The SIE has helped me land my current job because it showed Allied that I am eager and want to go in the field as fast as I can.
Solomon Exam Prep: How did you find Solomon Exam Prep? 
Dominic: I chose Solomon when Professor James mentioned it to me in class one day. After I investigated it and when HPU had a discount code it was a no-brainer.
Solomon Exam Prep: What do you like about Solomon Exam Prep?
Dominic: There are many things I like about Solomon. The first one being the app that is for the phone and knowing I can study anywhere and anytime with ease. Throughout the day I will just take a quiz or read up on something. I like how the material is broken down with simple day-to-day tasks that do not overwhelm me. The ability to ask the professor and the quick response times you have. Finally, I enjoy the exam breakdowns and telling me where I should study more.
Solomon Exam Prep: What did you like about the Solomon Exam Prep SIE products?
Dominic: I enjoyed the website and how easy it is to navigate and go back to sections that I was struggling with. I enjoy the highlight feature that saves to a doc that I can print out and study from.
Solomon Exam Prep: Would you recommend the Solomon SIE course to other students? If yes, why?
Dominic: Yes, I would recommend the Solomon SIE course to other students because you are still able to handle the studying time while staying on top of your classwork.
Solomon Exam Prep: What other exams do you plan to take with Solomon?
Dominic: I am currently studying for Series 7 with Solomon and I will be taking that exam in late March. After that, I will be taking Series 66 with Solomon, and if all goes to plan that will be on June 1st.
---
For more information about Solomon Exam Prep's compelling SIE program and the advantages for your students, contact Beth Hamilton at Beth@SolomonExamPrep.com or call 503-601-0212.
You can also learn more on the Solomon website Colleges page.