Solomon Exam Prep has just added two new courses to its Investment Adviser Representative Continuing Education course library! Both courses are approved by NASAA and earn credit towards the new CE requirement for investment adviser representatives (IARs).
An Introduction to ESG Investing
Curious about the increasingly popular form of investing called ESG (Environmental, Social, and Governance) investing? Solomon Exam Prep's new continuing education course, "An Introduction to ESG Investing," provides a helpful overview of the topic for IARs.
The course begins with a short history of the ESG movement, including the role that international and domestic governing bodies have played in jumpstarting ESG investing. The different types of ESG ratings are compared and explained. Additionally, the course describes the kinds of ESG securities offered, as well as ways to choose an ESG portfolio that aligns with an investor's values. Finally, the course lays out the potential risks and benefits of ESG funds and common ESG investment philosophies, such as impact investing and sustainable investing.
By the end of the course, you'll be able to do the following:
Briefly describe the domestic and international roots of ESG investing and how it has grown to become a prominent force for change in the US and EU

Identify the characteristics and examples of the types of metrics used to gauge compliance with ESG goals

Understand the basic differences between the several types of ESG ratings agencies

Describe the common types of ESG securities, such as mutual funds, ETFs and green bonds

Identify examples of how states have led the shift in ESG investing

Describe the risks and benefits of investing in ESG funds

Define basic terms used in ESG investing tactics, such as impact investing and sustainable investing
The Introduction to ESG Investing course is worth one credit for the Products and Practices category. IARs must complete six credits of Products and Practices courses each year, of the 12 total required credits.
DeFi and Digital Assets
If you've been hearing terms such as "cryptocurrency," "DeFi (short for decentralized finance)," and "NFTs" and wondering what all the fuss is about, you're not alone. Solomon Exam Prep's new "DeFi and Digital Assets" continuing education course offers a look into the world of digital assets through the lens of fiduciary duty.
The course discusses examples of digital assets such as cryptocurrency, dApps, DeFi Projects, and Non-Fungible Tokens (NFTs). You'll learn about the function of these digital assets and asset tools, as well as the benefits and drawbacks for IARs and their clients. This includes a discussion of whether IARs have the tools to provide a sufficient suitability analysis on these digital assets for their clients. The course ends with an assessment of the SEC's regulatory framework for these assets.
By the end of the course, you'll be able to do the following:
Explain the Prudent Investor Rule and identify two factors that are important in presenting a suitability analysis

Identify at least one advantage and one disadvantage to using a smart contract-based dApp as opposed to a traditional financial instrument

Compare and contrast a normal digital token with an NFT

Identify how digital assets present a different kind of transparency when compared with traditional financial instruments

Identify three differences in the risk profile of a digital asset compared to a traditional financial asset, including two difficulties associated with assessing risk

Explain conflict of interest that occurs due to valuation methods in digital asset portfolios
The DeFi and Digital Assets course is worth one credit for the Ethics and Professional Responsibility category and falls into the ethics sub-category. Out of the 12 total required credits, IARs must complete six credits of Ethics and Professional Responsibility courses each year. Three of these must specifically be ethics courses.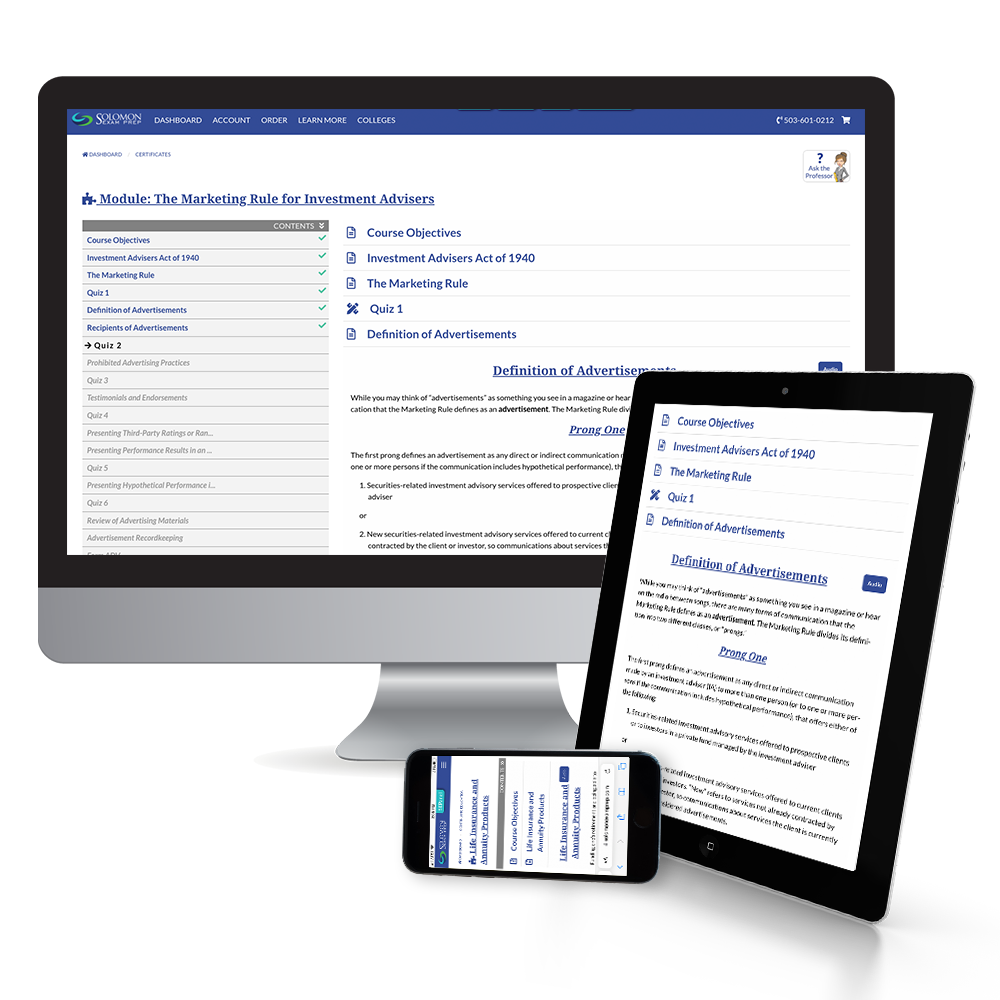 About Solomon IAR CE courses
Solomon's online IAR CE courses are self-paced and accessible on any internet-enabled device. Each course consists of short reading passages followed by quick assessments of 2–4 questions each. This read-and-quiz format facilitates learning and retention.
All Solomon IAR CE courses earn credit towards the Products and Practices or the Ethics and Professional Responsibility categories required by NASAA. Once activated, you have up to 365 days to complete a course. When you finish a course, Solomon reports completion to FINRA, NASAA's vendor for program tracking.
What is the IAR CE requirement?
Investment Adviser Representatives registered in a jurisdiction that has adopted and implemented the NASAA model rule must do annual continuing education. To fulfill the IAR CE requirement, IARs must complete 12 credits of continuing education each calendar year.
To learn more about the IAR CE requirement, visit the Solomon IAR CE FAQs page. Explore Solomon's entire IAR CE course library – purchase individual courses or a membership to the whole library and complete all your IAR CE in one place.
Disclaimer: NASAA does not endorse any particular provider of CE courses. The content of the course and any views expressed are our own and do not necessarily reflect the views of NASAA or any of its member jurisdictions.