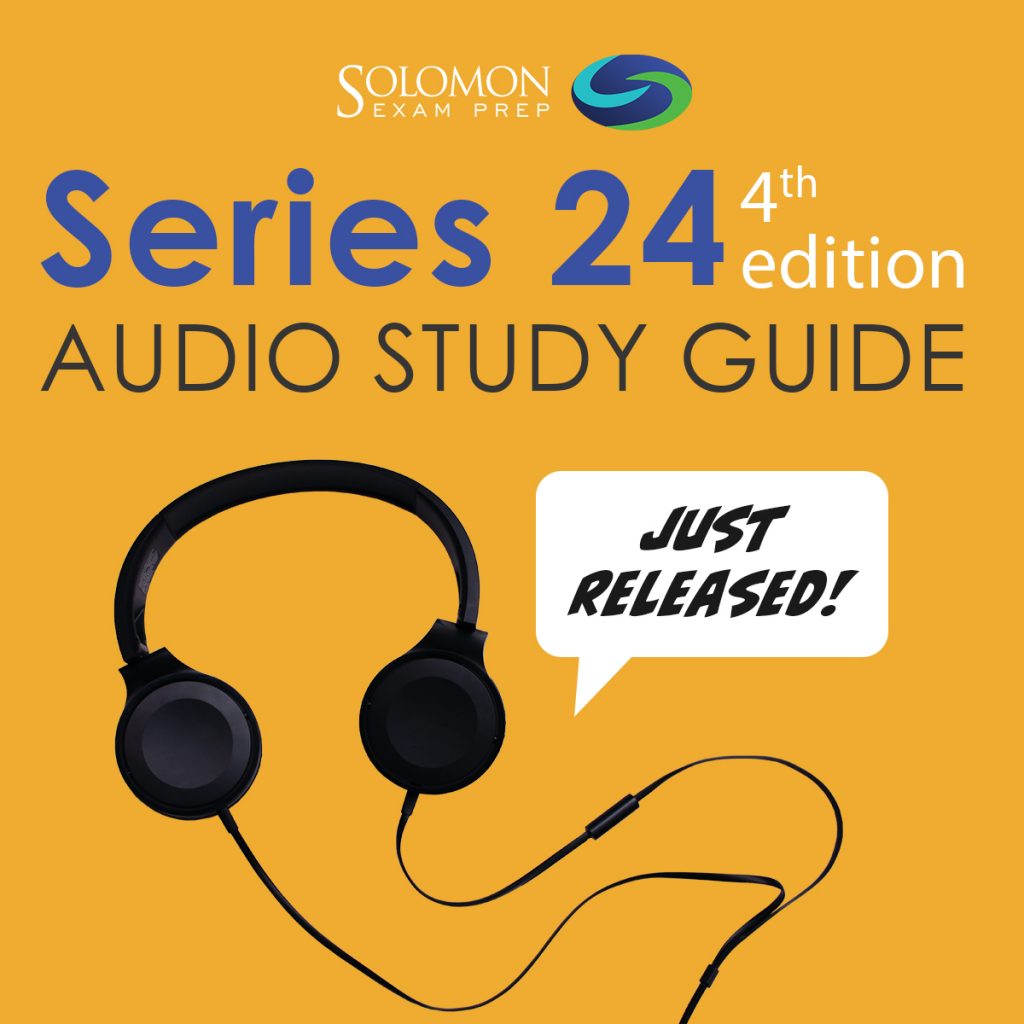 Solomon Exam Prep is excited to release the 4th edition of the Solomon Series 24 Exam Audiobook.  The Solomon Audiobook is a word-for-word reading of the 4th edition of Solomon Exam Prep's Series 24 General Securities Principal Exam Study Guide. 
Although the core content of the Solomon Series 24 Exam Study Guide is the same as the previous edition, Solomon Exam Prep has made the following changes in the 4th edition for this important FINRA principal exam:
Updated information related to new and changed FINRA rules
Added information on SEC Regulation Best Interest
Updated tax information for 2020
Updates to retirement plan information, most of which is related to the recently enacted SECURE Act which took effect on January 1, 2020 
Additional examples and questions to help reinforce important concepts
For those of studying for the FINRA Series 24 exam, Solomon's Audiobook offers another great way to learn the Series 24 material. Because it's available as both streaming audio and instant MP3 download, you can conveniently listen on the go with or without Internet access. Solomon Study Guides are written in easy-to-understand language, and Solomon Audiobooks are read by real people who are content experts. Audiobooks can be used in tandem with the Solomon Study Guide, Exam Simulator, and/or Video Lecture to create a well-rounded study experience benefitting a variety of learners. Curious about the many
benefits of Solomon Audiobooks
?  Visit our blog post to read more:
https://solomonexamprep.com/news/study-tips/solomon-study-tip-listen-to-a-solomon-audiobook/
If you have a current digital subscription to the Solomon Series 24 Exam Audiobook, then you have been automatically updated to the 4th edition on your online Solomon account, at no additional charge. However, if you'd like to be reverted back to the 3rd edition, or if you have any questions about this update, please call us at 503-601-0212 or email 
info@solomonexamprep.com
 and we'll be happy to help.
And if you're planning to study for the Series 24 exam, you can 
explore Solomon Exam Prep's Series 24 exam study materials here
.  The Solomon Series 24 Audiobook is available as an individual item, and it is included in the discounted Audio Premium Package and Total Packages.