Series 52 (legacy)
— MSRB Municipal Securities Representative Qualification Examination
QUICK LOOK:
RECOMMENDED STUDY TIME: 60 hours
EXAM LENGTH: 0 questions
EXAM TIME:
PASSING SCORE: 0%
TAKING EXAM: Testing is done via Prometric
ORDER
*Discounts do not apply to add-ons
WHAT CUSTOMERS SAY ABOUT SOLOMON'S MSRB MUNICIPAL SECURITIES REPRESENTATIVE QUALIFICATION EXAMINATION
I struggled with passing the Series 52 exam. I used study materials from Kaplan & STC Interactive. It wasn't until I used Solomon's materials that I was able to pass the exam.
Belinda Wilson, Stifel Nicolaus & Co, Montgomery, AL
STRENGTH BREAKDOWNS
Refine your Exam Simulator practice with detailed exam results. Solomon reports analyze which topics you're strong in and which require more study so that you can focus your attention on the subjects that need your attention the most.
ASK THE PROFESSOR
Solomon students can click the Ask the Professor button and get:
A speedy response
Direct access to Solomon professors
Personalized help
"The Ask the Professor and live chat features were excellent!"
Carol G, New York
STUDY SCHEDULES
Interactive online study schedules help you master the exam study material with maximum efficiency. Choose a study schedule based on your timeline and expected exam date. You can edit, delete, and check off completed items or create custom items. You'll find detailed instructions for what to do every step of the way.
INTERACTIVE REVIEW
This Exam Simulator feature makes it easy to review the questions you've gotten wrong on quizzes and exams. The interactive review is untimed, ungraded and you receive immediate feedback on your answers.
FREQUENTLY ASKED QUESTIONS ABOUT THE SERIES 52 (LEGACY)
STUDY GUIDE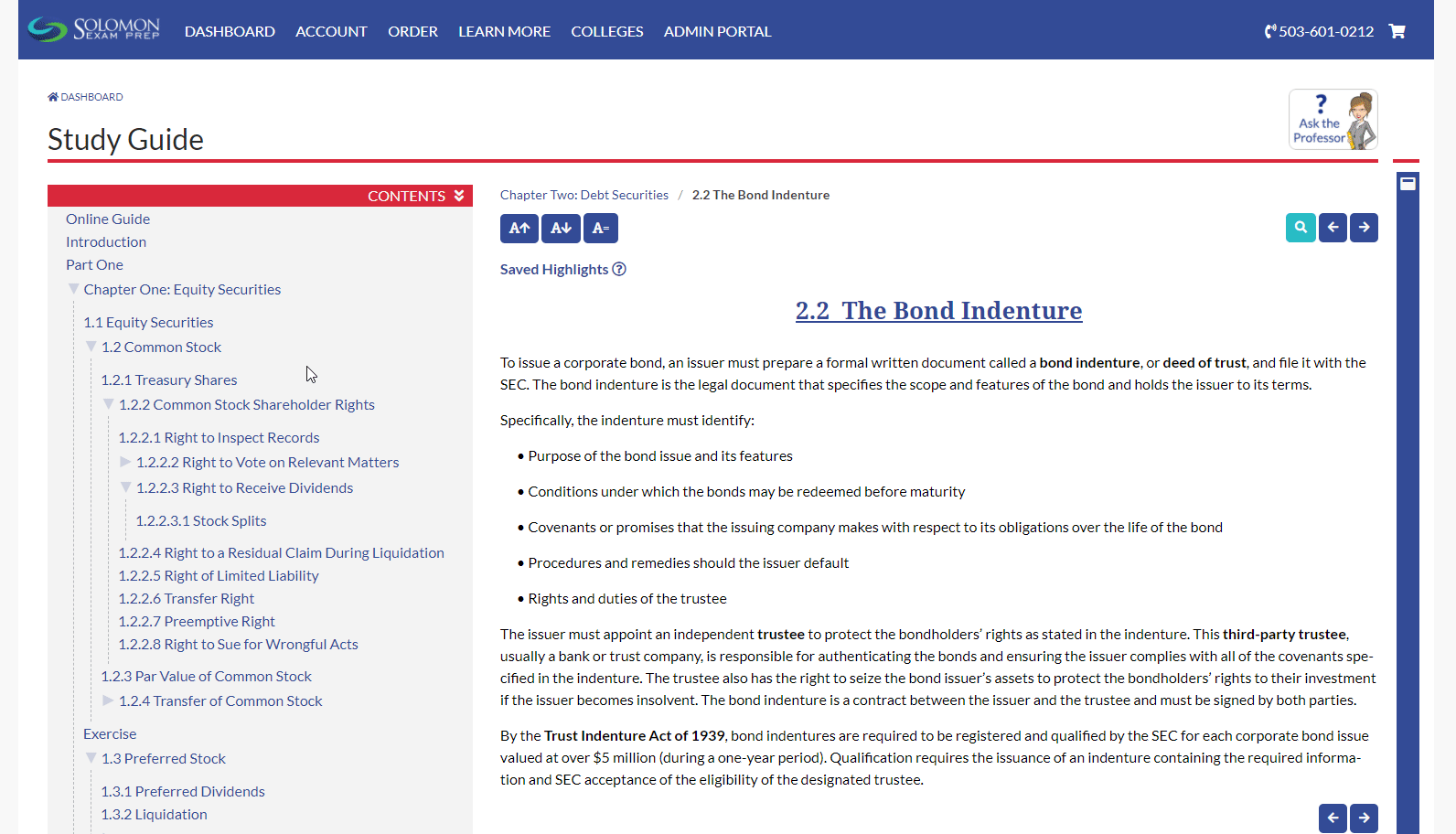 EXAM SIMULATOR
Number of Questions
1
Time Duration
Untimed
Answer Feedback


Instant validation and rationale

Percentage required to pass
%
AUDIOBOOK
Thank you for listening to our audio samples. Purchase this audiobook to unlock all of the tracks.
| | Track | Title | Bookmark | Length | Download |
| --- | --- | --- | --- | --- | --- |
Live Classes
Select a class that works for you.