Hard Copy Upgrade + $32.00
*Discounts do not apply to add-ons
WHAT CUSTOMERS SAY ABOUT SOLOMON'S FINRA GENERAL PRINCIPAL QUALIFICATION EXAM
This is my fourth time using Solomon's exam materials (Series 99, 7, 63, and now the 24)....and I PASSED once again on my first try. Thank you Solomon- your exam question simulator was extremely helpful!
Kim Schmidt, Elmcore Securities, Las Vegas
PASS PROBABILITY™
Pass Probability™ is Solomon Exam Prep's industry-leading AI technology that measures your readiness to pass your securities exam – based on the performance of thousands of Solomon students.

Once you take five Solomon practice exams in the Exam Simulator, the Solomon Pass Probability tool calculates the probability that you will pass your test. You will receive a score between 0% – 100%.
STRENGTH BREAKDOWNS
Refine your Exam Simulator practice with detailed exam results. Solomon reports analyze which topics you're strong in and which require more study so that you can focus your attention on the subjects that need your attention the most.
ASK THE PROFESSOR
Solomon students can click the Ask the Professor button and get:
A speedy response
Direct access to Solomon professors
Personalized help
"The Ask the Professor and live chat features were excellent!"
Carol G, New York
STUDY SCHEDULES
Interactive online study schedules help you master the exam study material with maximum efficiency. Choose a study schedule based on your timeline and expected exam date. You can edit, delete, and check off completed items or create custom items. You'll find detailed instructions for what to do every step of the way.
INTERACTIVE REVIEW
This Exam Simulator feature makes it easy to review the questions you've gotten wrong on quizzes and exams. The interactive review is untimed, ungraded and you receive immediate feedback on your answers.
FREQUENTLY ASKED QUESTIONS ABOUT THE SERIES 24
How do I register to take the Series 24?
To take the Series 24, a FINRA member firm must file a Form U4 application on your behalf through FINRA's Central Registration Depository (CRD). You will have to get fingerprinted and answer a lengthy set of questions about your background.

What does the Series 24 qualify me to do?
The Series 24 license qualifies you to manage or supervise a FINRA member's investment banking or securities business for corporate securities, rights, warrants, closed-end funds, money market funds, REITS, asset-backed securities, (corporate) mortgage-backed securities, mutual funds, variable annuities and variable life insurance, direct participation programs, securities traders, venture capital, mergers and acquisitions, and corporate financing. However, there are several positions that a Series 24 exam will not qualify you for including supervising options and municipal securities. The Series 24 is heavy on rules, especially as they relate to supervision. 
How long should I prepare for this exam?
We recommend studying 100 hours over a four- to ten-week period.
What score do I need to pass the exam?
A score of 70% is require for passing.
Note: Your score will be rounded down to the lowest whole number (e.g. 69.9% would be a final score of 69%--not a passing score for the Series 24 Exam).
STUDY GUIDE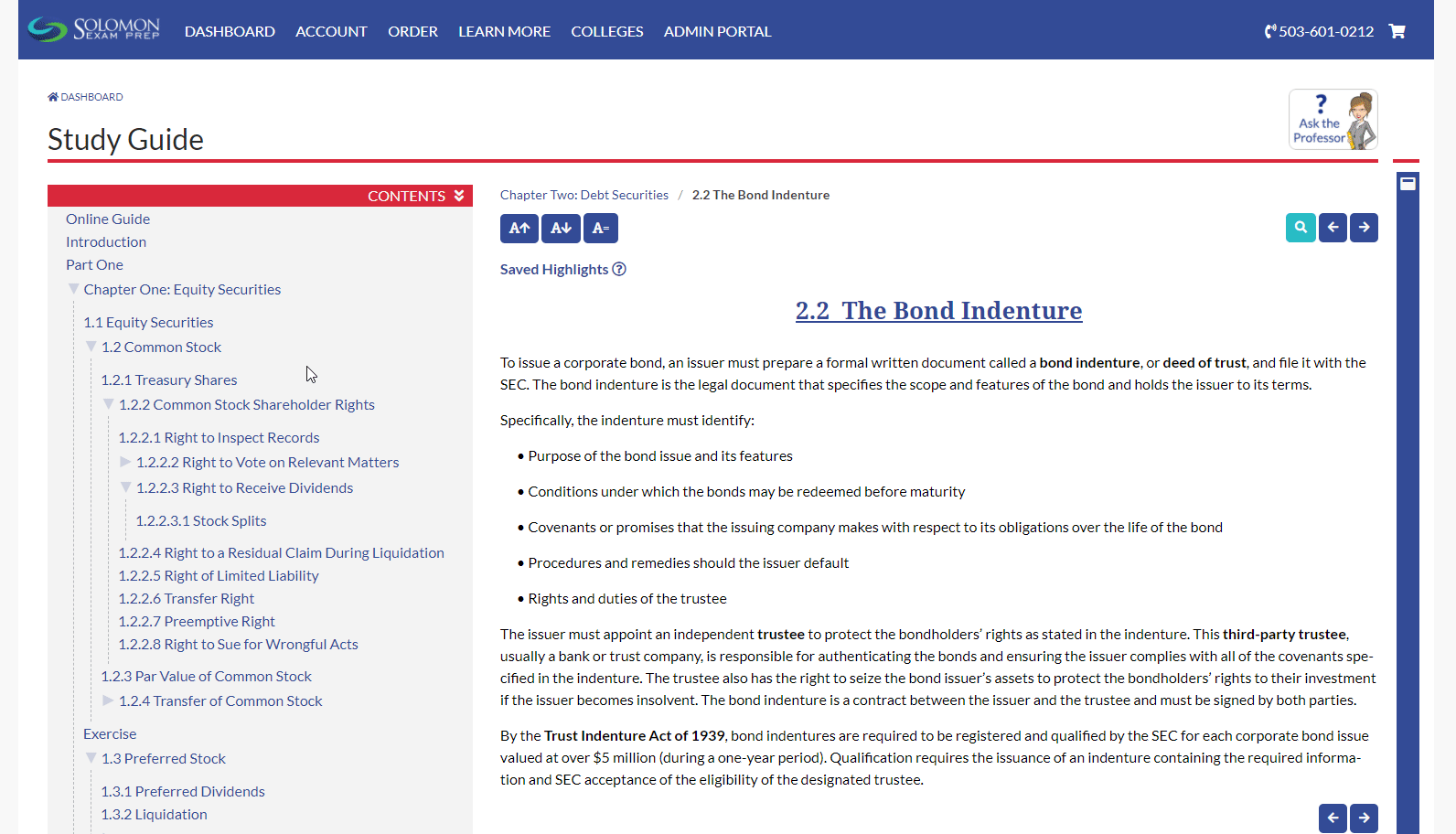 EXAM SIMULATOR
Number of Questions
10
Time Duration
Untimed
Answer Feedback


Instant validation and rationale

Percentage required to pass
70%
AUDIOBOOK
Thank you for listening to our audio samples. Purchase this audiobook to unlock all of the tracks.
| | Track | Title | Bookmark | Length | Download |
| --- | --- | --- | --- | --- | --- |
| | 9 | 2.2.1.4.2. Office Of Foreign Assets Control - 2.2.1.6. Soft Dollar Arrangements | 0:00 | 16:40 | |
VIDEO LECTURE
Thank you for listening to our video sample. Purchase this video lecture to unlock all of the tracks.
Live Classes
Select a class that works for you.