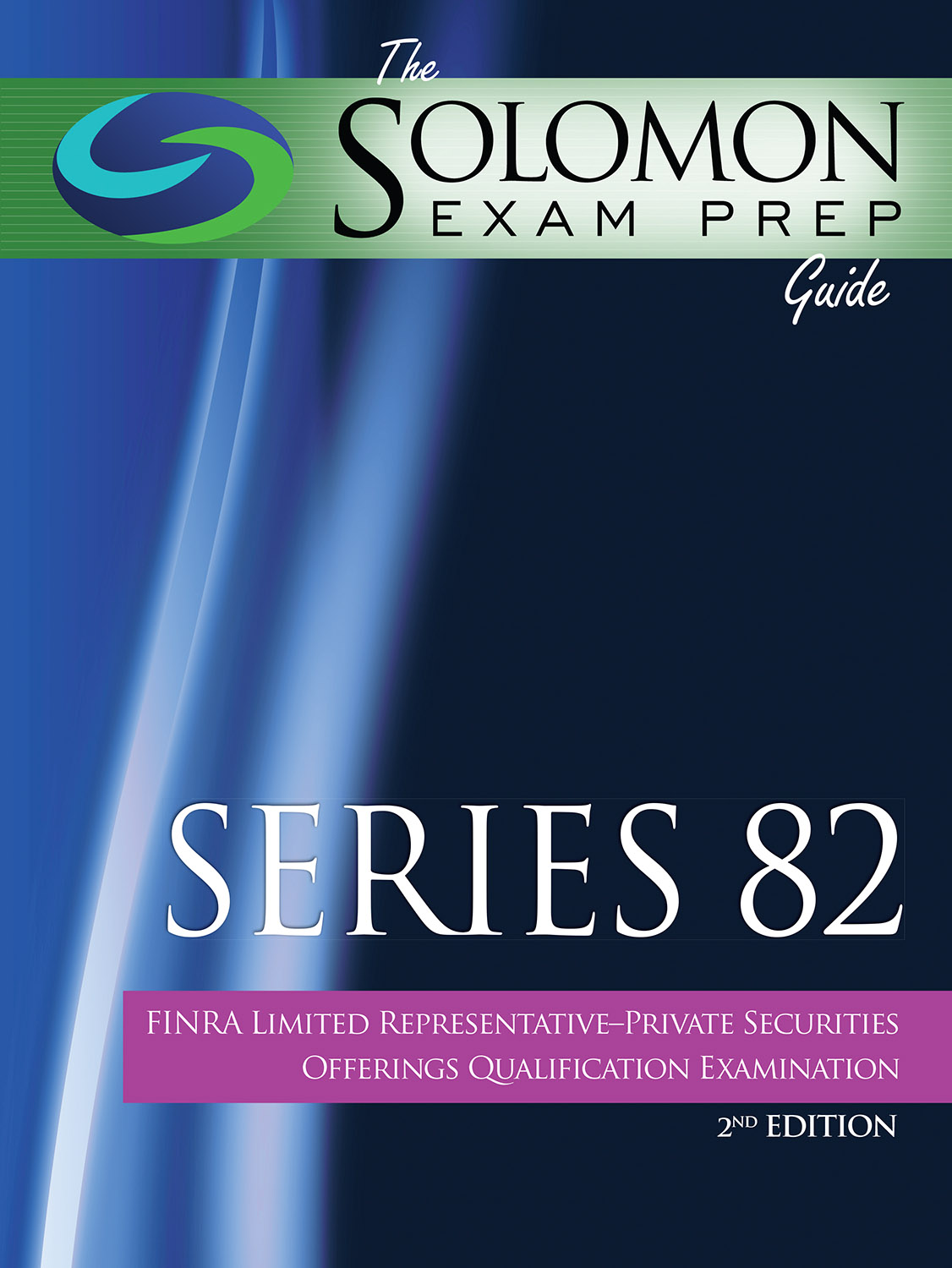 The securities world is constantly changing, and Solomon Exam Prep works to provide you with the most accurate and up-to-date exam materials on the market.  Our brand new 2nd edition of The Solomon Exam Prep Guide to the Series 82 Limited Representative – Private Securities Offerings Representative Exam features 100 new practice questions, new visuals and examples, and expanded material on subjects throughout the book, including:
Updated FINRA rules
Regulation A+
Regulation D
Money market instruments
Insider trading
New suitability rules
Taxation
and much more that you will need to know to pass the Series 82 and sell private placements.
The Series 82 is a difficult exam, but with our guide you will approach the test fully prepared and be ready to enter the private securities industry with knowledge and expertise.  As Solomon Exam Prep President Jeremy Solomon says, "The increase in the numbers of people taking the Series 82 has mirrored the rise in the sale of private securities.  The Series 82 isn't as extensive as some other FINRA exams, but it is not an easy exam for most test-takers.  That's because three-quarters of the exam is on the regulation of securities and handling customer accounts, topics many professionals in the world of private placements may not be familiar with.  Becoming familiar with securities industry rules and laws generally means reading and practicing, something busy securities professionals often have difficulty finding the time for. That's why Solomon study materials are so valuable — they make the process highly efficient and guide test-takers to success."
Solomon Exam Prep has helped thousands of financial professionals pass their FINRA, NASAA, and MSRB securities regulatory exams including the Series 6, 7, 24, 26, 27, 28, 51, 52, 53, 55, 62, 63, 65, 66, 79, 82, and 99. The Solomon Exam Prep training system includes print and digital Exam Study Guides, Online Exam Simulators, Audiobooks, and Video Lectures to address the learning needs of all kinds of test-takers.