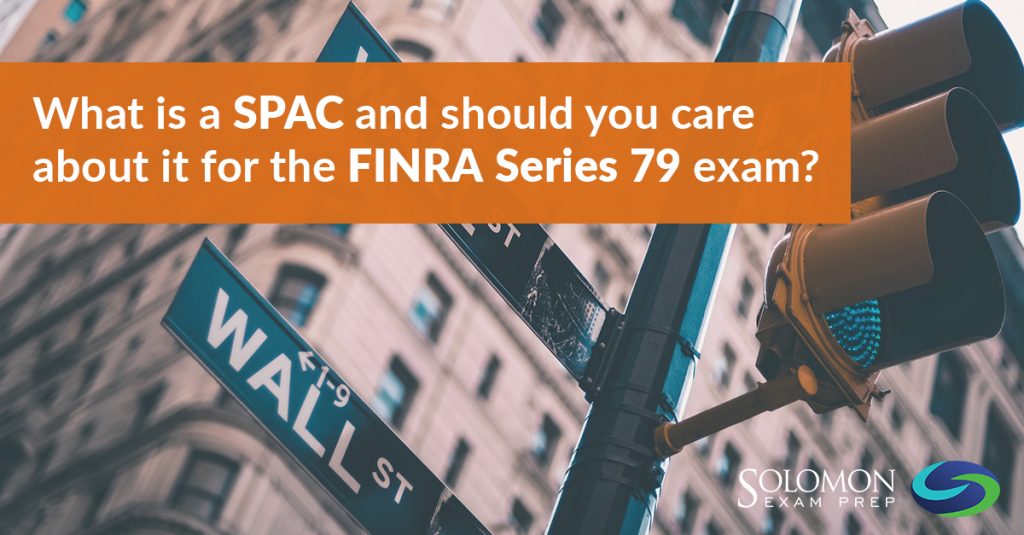 It sounds like a securities-industry riddle: what do you call a blank check company with no hard assets that holds a multimillion dollar IPO? But the answer is very real: SPACs (special purposes acquisition companies) are an alternative to traditional IPOs that have exploded in popularity.
What's a "blank check company?" A blank check company is an exchange-listed shell company that, according to the SEC, has "no specific business plan or…its business plan is to engage in a merger or acquisition."
The purpose of a SPAC is to raise money to acquire a privately held company. Think of it as crowdfunding on a massive scale. First, the SPAC sells shares of itself in an IPO. Then it uses the IPO proceeds to fund a merger between itself and a target company. When the merger is complete, the SPAC's shareholders become shareholders in the target company. Investors buy SPAC shares based on their confidence that the SPAC's management will complete the merger, and the anticipated value of the shares after the merger.
SPACs have grown by leaps and bounds in recent years, and the growth is only accelerating. The amount raised by SPAC IPOs in 2020 more than quadrupled the amount they raised in 2019. According to Reuters, the total value of SPAC mergers in 2021 has already exceeded the total size of SPAC mergers for all of 2020.
What does this mean for regulations?
As investor excitement around SPACs has heated up, there are indications that the SEC is beginning to take a closer look at this new kind of IPO. On March 10th, the SEC issued a warning against investing based on celebrity involvement with a SPAC. Celebrities with high-profile ties to SPACs include A-Rod, Shaquille O'Neal, Serena Williams, and former Speaker of the House Paul Ryan. Acting SEC Chair Allison Herren Lee recently warned of "more and more evidence on the risk side of the equation for SPACs as we see studies showing that their performance for most investors doesn't match the hype."
While none of this guarantees that new rules for SPACs are around the corner, it does make it more likely that FINRA's Series 79 investment banking exam may begin to include mention of SPACs. They are a topic that investment bankers are increasingly likely to encounter in practice, and therefore are increasingly likely to be viewed as fair game for the exam.
Solomon Exam Prep is ahead of the curve with new material in our Series 79 Study Guide. Series 79 customers can find material on SPACs now included in the online edition of Solomon Study Guide.
Potentially testable points about SPACs include:
SPAC are formed by "sponsors," commonly institutional investors or high net worth individuals, who are compensated with both a portion of the IPO proceeds, as well as an equity stake in the SPAC of up to 20%.
SPAC's typically avoid committing to merge with a specific company, even if the SPAC was formed with the intention of targeting that company. The SPAC's management may respond to changing market conditions by choosing a different target, subject to approval from the SPAC's shareholders.
After a SPAC goes public, its shares trade freely on exchanges even before it completes a merger.
A SPAC must hold at least 85% of proceeds from its IPO in an escrow account.
The SPAC commits to return investor funds if it fails to complete a merger within a specified timeframe.
As a blank check company with no business operations of its own, a SPAC cannot take advantage of certain options available to more established securities issuers. For example, a SPAC is not permitted to make an electronic version of its road show presentation.
Solomon Exam Prep will continue to follow industry trends and how they affect your licensing exams.
Solomon Exam Prep has helped thousands pass their securities licensing exams, including the SIE and the Series 3, 6, 7, 14, 22, 24, 26, 27, 28, 50, 51, 52, 53, 54, 63, 65, 66, 79, 82 and 99.