Solomon Exam Prep is excited to announce the launch of the Solomon Exam Prep study program for the Municipal Securities Rulemaking Board's Series 52 Municipal Securities Representative Qualification Exam (https://solomonexamprep.com/series52/).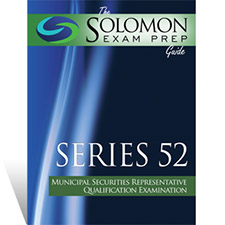 Individuals who pass the Series 52 exam qualify to be a Municipal Securities Representative and may work in multiple capacities relating to municipal securities, including underwriting, sales, trading, advising, and consulting with issuers, research, investment advising, and communicating with public investors about municipal securities, including US government and agency securities.
Since November 7, 2011 when FINRA revamped the Series 7 General Securities Representative Examination by de-emphasizing non-sales activities and by reducing the number of municipal securities questions, in the context of municipal securities passing the Series 7 only qualifies a registered person to be involved in the purchase and sale of municipal securities to customers, a qualification called the Municipal Securities Sales Limited Representative. However, anyone who passed the Series 7 before November 7, 2011 is grandfathered into the Municipal Securities Representative category provided the individual has kept their Series 7 license current.
For representatives whose activities are limited solely to municipal fund securities (i.e. 529 College Savings Plans and Local Government Investment Pools), the MSRB says those who pass the Series 6 exam are a "Municipal Securities Representative qualified by virtue of being a Limited Representative – Investment Company and Variable Contracts Products."
The Series 52 is a pre-requisite exam for the Series 53 Municipal Securities Principal Exam.
The Municipal Securities Representative Qualification Exam is written by the MSRB but it is administered by FINRA who charges $180 for the pleasure of taking the Series 52. The exam contains 115 questions, each worth 1 point. The individual is given 3 and one-half hours to complete the exam, and a minimum score of 70% is needed to pass.
The exam is broken down in to 4 distinct topic areas which are weighted differently:
Municipal Securities – 57%
U.S. Government, Federal Agency and Other Financial Instruments – 4%
Economic Activity, Government Policy and the Behavior of Interest Rates – 13%
Federal Legal Considerations – 26%
For more information and a complete break-down of the topics in the exam, visit http://www.msrb.org/Rules-and-Interpretations/Professional-Qualification.aspx