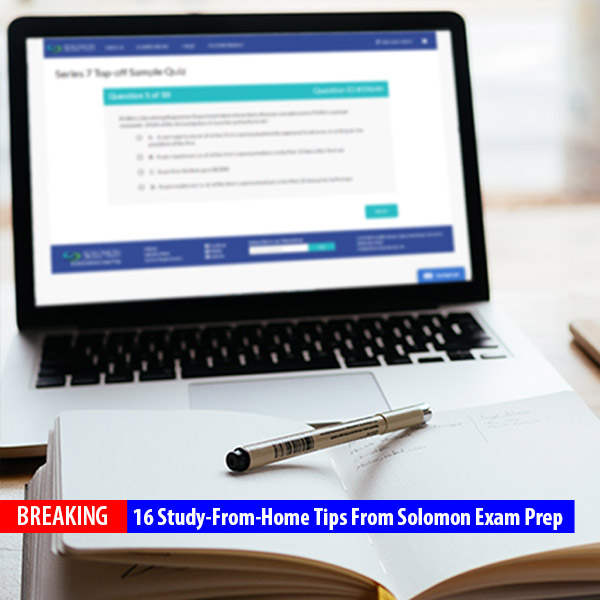 GENERAL HOME-STUDY TIPS
Find a quiet place that you feel comfortable in – try to study in this same place every day
Unless you're using your phone to study with, put the phone in another room.
Wake up early – getting started is the hardest part, and starting in the morning will make studying easier. You will get in several hours before you know it.
Make small goals.
Reward yourself – try to get up and walk around at least every 30 minutes. This will rest your eyes and mind.
If you start to feel anxious – take a deep breath, counting to four as you inhale, then slowly exhale, counting to seven as you exhale. Repeat. This will lower your anxiety. This is a good strategy to use before your exam.
Ask for help being accountable: find someone in your life to query you every day about what you have accomplished.
Go for a walk in a natural or green setting.  Studies show that your mind relaxes and you remember more if you take regular walks in a natural or green setting. 
Get a good night's sleep – try to go to sleep at the same time each night and wake up at the same time. 
SPECIFIC HOME-STUDY TIPS FOR SECURITIES EXAMS
Read the Solomon Study Guide. Remember: the number one reason people fail their securities exam is they didn't read the Study Guide.
If you're having trouble reading the Study Guide, listen to the Solomon Audio Guide while you read the Study Guide.  
Read Exam Notes in the Resources folder.
If you don't understand a question or concept, email Solomon's Ask the Professor.
If you're having trouble with something, create note cards and try to teach it to someone else. Becoming the teacher is the most effective tool to learn something you find challenging or difficult.
After reading the Solomon Study Guide, take at least six practice exams in the Solomon Exam Simulator.  
Use Interactive Review to review the Exam Simulator questions you get incorrect.
Solomon Exam Prep has helped thousands pass the SIE and the Series 3, 6, 7, 14, 22, 24, 26, 27, 28, 50, 51, 52, 53, 54, 63, 65, 66, 79, 82 and 99.  For more information, go to www.SolomonExamPrep.Com or call 503.601.0212.