Of the representative-level FINRA registrations categories, the General Securities Representative (Series 7) registration is considered by many to be the most valuable, due to the range of products it allows you to sell. But how "general" is it? Are there other representative-level registrations that permit you do things a Series 7 representative cannot?
What is a Series 7 representative permitted to do?
FINRA allows a General Securities Representative to solicit the purchase and sales of all securities products, including:
Stocks, whether from IPOs, private placements, or secondary market trading

Other corporate securities, such as bonds, rights, and warrants

Mutual funds

Closed-end funds

Money market funds

Unit investment trusts (UITs)

Exchange-traded funds (ETFs)

Real estate investment trusts (REITs)

Variable contracts (insurance products whose funds are invested in securities)

Municipal securities

Municipal fund securities, such as 529 plans

Options

Government securities

Direct participation programs (DPPs)

Venture capital

Hedge funds
This long list of products means that a Series 7 registered rep may perform the functions of an Investment Company and Variable Contracts Representative (Series 6), Direct Participation Programs Representative (Series 22), or Private Securities Offerings Representative (Series 82).
Besides sales, General Securities Representatives may also perform certain activities closely related to sales. They may:
recommend investments after performing a suitability analysis for the customer

accept unsolicited orders

open customer accounts, subject to approval by a principal
What is a Series 7 representative NOT permitted to do?
Though a General Securities Representative may solicit purchases of IPO shares, he may not work on underwriting or structuring an IPO, or any other securities offerings. This means that he is not permitted to advise an issuer on an offering. This work requires registration as an Investment Banking Representative (Series 79). Likewise, working on municipal underwriting requires registration as a Municipal Securities Representative (Series 52).
A Series 7 representative is also not qualified to perform the back-office functions of an Operations Professional (Series 99). Among these functions are maintaining possession or control of the firm's securities, calculating margin for margin accounts, and sending trade confirmations and account statements.
Of course, every registered representative must also pass the FINRA Securities Industry Essentials (SIE) exam. The SIE doesn't qualify you to do anything, instead it is a foundational exam that focuses on industry terminology, securities products, the structure and function of the markets, regulatory agencies and their functions, and regulated and prohibited practices. Unlike other FINRA securities exams, you do not need to be employed or sponsored by a broker-dealer in order to take the SIE. The only requirement is that you be 18 years old.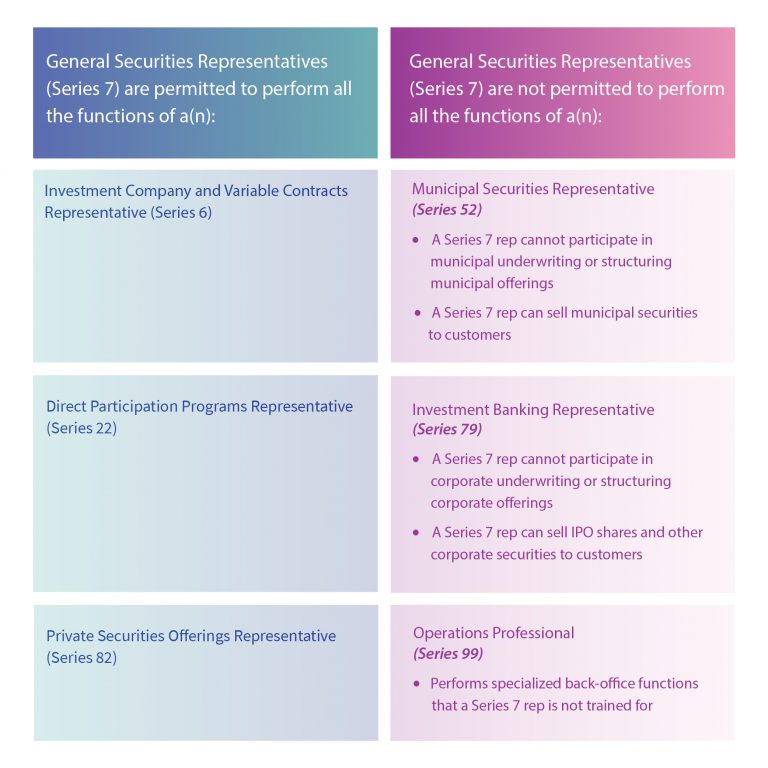 If you're considering taking the Series 7 exam, Solomon Exam Prep is here to help. Solomon provides a wide variety of study materials, together with resources such as study schedules, the Ask The Professor function, and helpful exam information. Explore Solomon's Series 7 study materials.
For more helpful securities exam-related content, study tips, and industry updates, join the Solomon email list. Click the button below: