What does the Series 79 exam permit me to do?
The Series 79, also known as the Limited Representative Investment Banking Exam, was developed by the Financial Industry Regulatory Authority (FINRA) to assess the skills and competency of entry-level investment bankers. If you work for a FINRA member firm as an investment banker, you must pass the Series 79 exam and register as an Investment Banking Representative. Although the Series 79 is designed for junior-level bankers, it proves to be one of the most difficult exams offered by FINRA, particularly for test-takers who do not have education and work experience in accounting and finance. In addition, the Series 79 exam requires a broad knowledge of the rules, regulations and industry practices that govern US capital markets and investment banking.
Passing the Series 79 exam qualifies you to advise on and/or facilitate the following:  
Debt and equity offerings (private placement or public offering)

Mergers and acquisitions

Tender offers

Financial restructurings

Asset sales

Divestitures or other corporate reorganizations

Business combination transactions
Do I need to take any other securities licensing exams?
According to FINRA, the Series 79 does NOT cover sales or marketing of debt or equity securities to investors or potential investors. In order to make investor presentations, an investment banker with the Series 79 registration would also need to be "registered as a General Securities Representative (Series 7), Corporate Securities Representative (Series 62), or Private Securities Offerings Representative (Series 82) depending on the type of offering being made."
You are also required to take the FINRA Securities Industry Essentials (SIE) exam, unless you have passed certain other licensing exams (such as the Series 7 or Series 82) before October 1st, 2018.
Additionally, in order to comply with state securities regulations, most individuals with the Series 79 registration pass the NASAA Series 63 exam as well. Check with your firm's compliance officer to determine if this registration applies to you.
About the Exam
The Series 79 exam consists of 75 scored and 10 un-scored multiple-choice questions covering the three main sections of the FINRA Series 79 content outline. The exam itself is not divided into three sections, so questions from each section appear randomly throughout the exam. The 10 additional un-scored questions are ones that the exam committee is trying out. These are unidentified and are distributed randomly throughout the exam.
Note: Scores are rounded down to the next lowest whole number (e.g. 72.9% would be a final score of 72% – not a passing score for the Series 79 exam).
Topics Covered on the Exam
The questions on the Series 79 exam cover the major job functions of entry-level investment bankers, as determined by FINRA: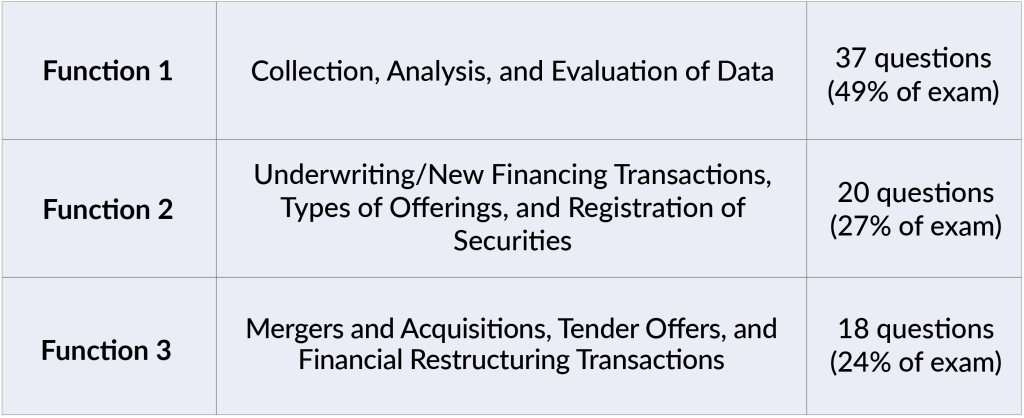 FINRA updates its exam questions regularly to reflect the most current rules and regulations. Solomon recommends that you print out the current version of the FINRA Series 79 Content Outline and use it in conjunction with the Solomon Series 79 Study Guide. The Content Outline is subject to change without notice, so make sure you have the most recent version.
FINRA and SEC Rule Numbers: What Should You Remember?
The Solomon Exam Prep Series 79 Study Guide introduces you to several different rules instituted by both FINRA and the SEC. While learning about these rules is important, the exam will not ask for specific FINRA rules, so you do not need to memorize those rule numbers. Instead, you should learn and understand the content of those rules. FINRA rules are generally distinguished by having four numbers (i.e., Rule 1250 or Rule 2241).
On the other hand, it is essential that you remember the content, and sometimes the names, of the SEC rules and regulations covered in the Solomon Series 79 Study Guide. In general, SEC rule numbers consist of either (1) three numbers (e.g., Rule 144) or (2) two numbers and a letter, followed by another number or a dash (e.g., Rule 10b-9, or Rule 15c1-3). Also, remember the names of regulations with letters associated with them, such as Regulation A.
Math and Accounting on the Series 79 Exam
Questions on the Series 79 exam do require you to use arithmetic, ratios, and basic algebra. Also, because the Series 79 exam requires you to understand and be able to analyze financial statements, a basic understanding of financial accounting is very helpful.
Question Types on the Exam
The Series 79 exam consists of multiple-choice questions, each with four options. You will see these question structures:
Closed Stem Format:
This item type asks a question and gives four possible answers from which to choose.
Which type of SEC filing would you look at to determine the holdings of a large investment manager?
Form 13F

Schedule 14A

Form 4

Form 8-K
Incomplete Sentence Format:
This kind of question has an incomplete sentence followed by four options that present possible conclusions.
If a company were to liquidate all its assets and pay off all its liabilities, the amount that would be left is:
Shareholders' equity

Retained earnings

Paid-in capital

Long-term debt
"EXCEPT" Format:
This type requires you to recognize the one choice that is an exception among the four answer choices presented.
All of the following are characteristics of a hedge fund, except:
They often do not need to register with the SEC.

They are a highly liquid form of investment.

They are generally lightly regulated when compared to other types of investments.

Their members or investors are institutions or wealthy individual investors.
Complex Multiple-Choice ("Roman Numeral") Format:
For this question type, you see a question followed by two or more statements identified by Roman numerals. The four answer choices represent combinations of these statements. You must select the combination that best answers the question.
You are analyzing a public company and your analysis requires you to compile LTM (last 12 months) financial data for the company. Which of the following SEC filings would you typically look to for such data?
Form 10-K
Schedule 13D
Form 10-Q
Form 3
I and II

II and III

III and IV

I and III
This format is also used in items that ask you to rank or order a set of items from highest to lowest (or vice versa), or to place a series of events in the proper sequence.
In marketing a proposed acquisition, a sell-side investment banker typically provides the following materials to prospective buyers in which order?
Confidentiality agreement
Teaser
Bidding procedures letter
Confidential information memorandum
I, II, IV, III

III, II, I, IV

II, III, I, IV

II, I, IV, III
Answers: A, A, B, D, D
For an even better idea of the possible question types you might encounter on the Series 79 exam, try Solomon Exam Prep's free Series 79 Sample Quiz.
Test-Taking Tips for the Series 79 Exam
If taking the test at a test center, you will be given a dry erase pen and whiteboard or a pencil and scratch paper, a basic electronic calculator, and an Exhibits Book. The Exhibits Book may be presented on your computer or as a physical pamphlet. You cannot bring notes, paper, or your own calculator. Phones and watches are not permitted either. Many of the questions will refer to tables or charts in the Exhibits Book, and some questions will require you to perform calculations.
The exam is administered electronically, but the computer format can be tricky. Before the exam, you will be able to take a tutorial on how the electronic system works. You should take the tutorial, since some people find the system awkward to use at first, and you don't want to use valuable test time dealing with technical issues. There is no scheduled break during the test; you're allowed to take an unscheduled break, but the clock doesn't stop.
Due to COVID-19, the Series 79 exam can also be taken online. Candidates must submit an Online Exam Administration Request Form to FINRA. Be sure to review the online system requirements for online testing before submitting the form.
Pacing
The Series 79 exam has 85 questions to answer in 150 minutes, which is a little under two minutes per question. This means you'll need to work at an average pace of about 105 seconds per question. Keep in mind that 105 seconds per question is an average speed that you must maintain over two and a half hours. This would be challenging even if every question was short and straightforward. Unfortunately, a number of questions are detailed and time-consuming, and will certainly take more than 105 seconds. You'll need to work faster on the remaining questions to maintain the necessary pace.
Read and Understand the Question Before You Answer 
Questions on the Series 79 exam can be intentionally confusing. You should carefully read each question before you answer it and understand exactly what the question is asking. While it is important to make a serious effort on each question, avoid spending a large amount of time on any single question. In general, you should dedicate no more than five minutes to any one question. If you find yourself spending more than five minutes, give it your best guess, flag the question, and move on.
Getting to the Point of the Question
As many of the questions on the Series 79 exam are paragraph length, it is often a good idea to read the last line or two of the question before reading the whole question. This technique will allow you to focus on the aspects of the long-form question that are most relevant, thereby saving you time.
Predict an Answer Choice if Possible
Many test-takers quickly read the question and immediately skip to the answer choices. A better technique is to formulate what you believe is the correct answer before going through the answer choices. If your pre-phrased answer is one of the choices, you should be comfortable in selecting that answer. This technique will also help you increase your speed.
Read Every Answer Choice
You should always read every answer choice. The exam is full of attractive but incorrect answers. Also, if you notice several correct answers, you may have missed an "except" or "not" in the question. If you consider every answer choice before making your selection, you are less likely to be tricked into picking a wrong but superficially appealing answer.
Answer Every Question, and Don't Dawdle
There is no penalty for guessing. If you honestly don't know an answer, pick an answer choice and move on. Don't dawdle. Even a random guess has a 25% chance of being right. If you spend too long trying to narrow down answer choices on one question, you've lost precious time on later questions.
Mark for Review and Return Later
If you're struggling with a question or have no idea what the answer is, mark the question and return to answer it later. Not only does this strategy allow you to efficiently answer the ones you know, but it can also help because you may learn something later in the exam that may help you answer an earlier question. Just remember to save enough time to return to the questions you didn't answer. However, it is not a good idea to simply skip all of the difficult questions with the intention of answering them later. You should make a serious effort to answer each question before moving on to the next one, as your thoughts are often clearer early on in the exam-taking process than they will be later.
How to Study for the Series 79 Exam
Follow Solomon Exam Prep's proven study system:
Read and understand. Read the Solomon Study Guide, carefully. The Series 79 is a knowledge test, not an IQ test. Many students read the Study Guide two or three times before taking the exam. To increase your ability to focus while reading, or as an alternative to reading, listen to the Solomon Series 79 Audiobook, which is a word-for-word reading of the Study Guide.
Answer practice questions in the Solomon Exam Simulator. When you're done with a chapter in the Study Guide, take 4–6 chapter quizzes in the Solomon Series 79 Online Exam Simulator. Use these quizzes to give yourself practice and to find out what you need to study more. Make sure you read and understand the question rationales. When you're finished reading the entire Study Guide, review your handwritten notes once more. Then, and only then, start taking full practice exams in the Exam Simulator. Aim to pass at least six full practice exams and try to get your Solomon Pass Probability™ score to at least an 80%; when you reach that point, you are probably ready to sit for the Series 79 exam.
Use these effective study strategies:
Take handwritten notes. As you read the Study Guide, take handwritten notes and review your notes every day for 10 to 15 minutes. Studies show that the act of taking handwritten notes in your own words and then reviewing them strengthens learning and memory.
Make flashcards. Making your own flashcards is another powerful and proven method to reinforce memory and strengthen learning. Solomon also offers digital flashcards for the Series 79 exam.
Research. Research anything you do not understand. Curiosity = learning. Students who take responsibility for their own learning by researching anything they do not understand get a deeper understanding of the subject matter and are much more likely to pass.
Become the teacher. Studies show that explaining what you are learning greatly increases your understanding of the material. Ask someone in your life to listen and ask questions. If you don't have anyone, explain it to yourself. Studies show that helps almost as much as explaining to an actual person (see Solomon's previous blog post to learn more about this strategy!).
Take advantage of Solomon's supplemental tools and resources:
Use all the resources. The Resources folder in your Solomon student account has helpful information, including a detailed study schedule that you can print out – or use the online study schedule and check off tasks as you complete them.
Watch the Video Lecture. This provides a helpful review of the key concepts in each chapter after reading the Solomon Study Guide. Take notes to help yourself stay focused.
Good practices while studying:

Take regular breaks. Studies show that if you are studying for an exam, taking regular walks in a park or natural setting significantly improves scores. Walks in urban areas or among people did not improve test scores.
Get enough sleep during the period when you are studying. Sleep consolidates learning into memory, studies show. Be good to yourself while you are studying for the Series 79: exercise, eat well, and avoid activities that will hurt your ability to get a good night's sleep.
You can pass the FINRA Series 79 Exam! It just takes focus and determination. Solomon Exam Prep is here to support you on your path to becoming a registered investment banking representative.
To explore all Solomon Exam Prep's Series 79 study materials, including product samples, visit the Solomon website here.
For more helpful securities exam-related content, study tips, industry updates, and promotional offers, join the Solomon email list. Just click the button below: