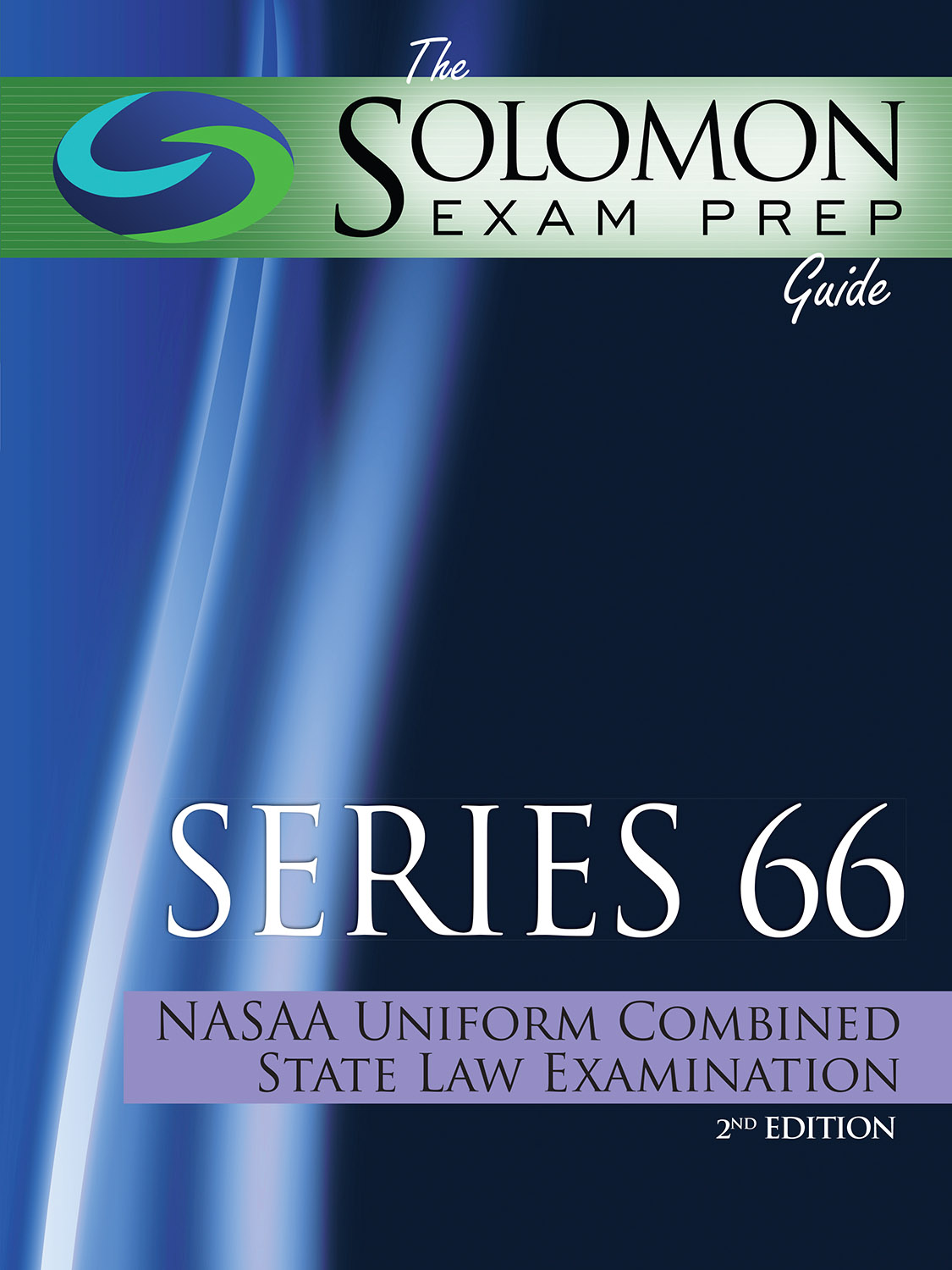 Solomon Exam Prep constantly strives to produce the most up-to-date materials in order to give our students the best chance of passing their exam on the first try. Thus, we are proud to announce a new 2nd edition of our Solomon Exam Prep Guide to the Series 66 Uniform Combined State Law Examination. The second edition of the Solomon Series 66 Exam Study Guide includes more examples, visuals and practice questions, as well as additional information on the following topics:
Time value of money
Discounted cash flow method
Business structures
Trust and estate accounts, including the taxation of trust and estate accounts
Financial goals and strategies
Modern portfolio theory
Capital asset pricing model, including discussions of alpha and beta
Efficient market hypothesis
Options strategies
Fiduciary responsibilities
Investment policy statements
Suitability
Compensation, including comparisons of investment advisers and broker-dealers
Prudent investor standards
According to Solomon Exam Prep President Jeremy Solomon, "The NASAA Series 66 Uniform Combined State Law Examination is one of the most challenging securities licensing exams. After passing the Series 7, people underestimate the Series 66 exam and may not be successful on their first try. With this new edition we have greatly expanded our text and hope to convey the importance of the material the Series 66 covers."
Regulators have set the bar high for this exam for a simple reason: the Series 66 exam, in conjunction with the Series 7 exam, qualifies you to be a securities agent and an investment adviser representative, so you must know what you're talking about when giving investment advice or effecting securities transactions. This means that you need to know a lot of information, including the three types of securities registration, the nine types of investment risk, the difference between the strong, semi-strong, and weak forms of the EMH; when a securities professional is permitted to sell non-exempt unregistered securities (never); who may issue a stop order to deny, revoke, or suspend; when rescission is allowed and by whom; what contumacy is and how to avoid it; what prudent investor, suitability, and fiduciary mean—and more!
The comprehensive Solomon Exam Prep Guide to the Series 66 Exam works in three mutually reinforcing ways: it focuses on the most important aspects of the exam, provides you with plenty of practice questions, and continually reminds you why you have to take the test in the ­first place: to protect investors.
Solomon Exam Prep has helped thousands of financial professionals pass their FINRA, NASAA, and MSRB securities regulatory exams including the Series 6, 7, 24, 26, 27, 28, 51, 52, 53, 55, 62, 63, 65, 66, 79, 82, and 99. The Solomon Exam Prep training system includes print and digital Exam Study Guides, Online Exam Simulators, Audiobooks, and Video Lectures to address the learning needs of all kinds of test-takers.
Solomon Exam Prep is led by founders Jeremy and Karen Solomon, both of whom maintain a lifelong commitment to advancing learning and education.  Solomon Exam Prep draws from a pool of seasoned educators, practitioners and communicators who are experienced in both investment education and the process of adult learning.