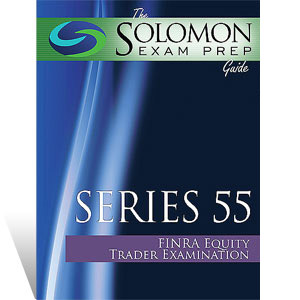 Solomon Exam Prep is pleased to announce the publication of "The Solomon Exam Prep Guide: Series 55 FINRA Equity Trader Examination, 2nd Edition" (https://solomonexamprep.com/series55/exam-study-guide).
FINRA has revised the Series 55 exam for Equity Traders into three new sections that reflect the three major functions performed by an Equity Trader. The functions include trading, order handling, and record keeping and regulatory reporting. The candidates will be tested on knowledge required to perform each of the job functions.
The exam is still 100 questions long, and test-takers continue to have 3 hours to take the exam, but the passing score has been lowered to 67%. The weighting of questions has also changed, and will now focus more on trading and order handling rules and practices and less on general industry standard rules.
The following are the three major sections and the number of questions on the exam for each section:
Section 1:  Trading, 45 questions;
Section 2:  Order Handling, 36 questions; and
Section 3:  Record Keeping and Regulatory Reporting, 19 questions.
The Solomon Exam Prep new Series 55 text is organized according to this new outline and reflects all new changes to the outline. Our online exam simulator has also been revised to reflect these exam changes. Customers can take quizzes by section, and also full exams that reflect the new question distribution, and the new passing rates.
You can now order the new text as a digital or hard copy guide by calling 503.601.0212 or going to http://solomonexamprep.com.