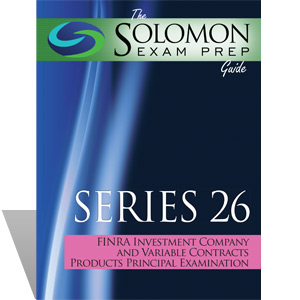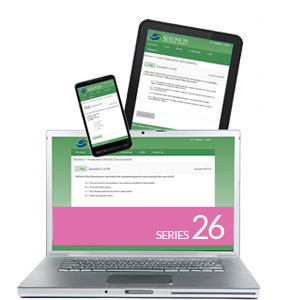 Solomon Exam Prep is excited to announce the launch of the Solomon Exam Prep study program for the Financial Industry Regulatory Authority's (FINRA) Series 26 Investment Company and Variable Contracts Products Principal Examination (http://www.finra.org/industry/series26). Solomon Exam Prep's study program consists of an Exam Study Guide, Online Exam Simulator, and soon-to-be-released Audiobook.
A Series 26 license will qualify an individual to function as a principal for the solicitation, purchase, and/or sale of redeemable securities of companies registered pursuant to the Investment Company Act of 1940; securities of closed-end companies registered pursuant to the Investment Company Act of 1940 during the period of original distribution only; and variable contracts and insurance premium funding programs and other contracts issued by an insurance company. The Series 26 does have a prerequisite exam requirement – candidates must have taken and passed either the Series 6 or Series 7 exam.
The Series 26 exam consists of 110 questions taken over 165 minutes and is broken down in to the following three functions:
Function 1 – Personnel management activities and registration of the broker-dealer – 15%
Function 2 – Supervises associated persons and oversees sales practices – 44%
Function 3 – Oversees compliance and business processes of the broker-dealer and its offices – 41%
Solomon Exam Prep has been writing study questions for the Series 26 for many years and has recently published an Exam Study Guide to pair with our Online Exam Simulator. By focusing on the most important aspects of the exam, and including lots of exercises and practice questions, as well as a glossary, the Solomon Exam Prep Study Guide will get you on track to pass in the Series 26 in no time.  Let our expertise help guide you through the Series 26 maze so you can enter the exam room with confidence.
---
Past Solomon Exam Prep students have a lot to say about our Series 26 materials:
"Solomon Exam Prep was the ticket to passing my Series 26 test. I would like to thank you all for your help! I would highly recommend their study material for the FINRA exams." –David H. Viar
"I am so glad I used the Solomon prep information for my series 26. The simulator is awesome and helped me the most in having success in passing exam. I strongly recommend the materials for anyone taking the 26. Thanks Rosie!" –Dan Smoot
---
For more information and/ or to purchase study materials for the Series 26 check out the Solomon Exam Prep website: http://solomonexamprep.com/Series26.