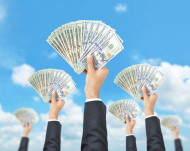 Capital markets in the United States are arguably the strongest in the world. Recent developments could strengthen them even more by making equity investing and equity capital-raising much more accessible.
In an effort to lower the cost and increase the availability of equity investing to small businesses, the SEC just adopted Regulation Crowdfunding (Title III of the Jobs Act adding Securities Act Section 4(a)(6)). These are the much-awaited final rules permitting equity crowdfunding, which allows small and startup companies to raise capital via the internet through relatively small contributions from investors.
Under the terms of the new rules, crowdfunding transactions for eligible U.S. companies will be exempted from SEC registration, provided
the aggregate amount the issuer sells to all investors in a 12-month period does not exceed $1 million,
The aggregate amount sold to any investor does not exceed a given percentage of that investor's annual income or net worth (the greater of 2% or $5,000 for investors with either an annual income or net worth of less than $100,000; 10%, but not to exceed $100,000, for all others),
The transaction is conducted through either a registered broker-dealer or a registered "funding portal", and
Issuers are in compliance with required SEC disclosure filings.
Certain companies are not eligible for the crowdfunding exception.  These include all foreign-based companies, Exchange Act-reporting companies, certain investment companies, and companies that have previously failed to comply with crowdfunding reporting requirements.
Buyers of crowdfunding securities will be required to hold them for at least a year before they can resell them.
This alert applies to the Series 7, Series 24, Series 62, Series 79, and Series 82.