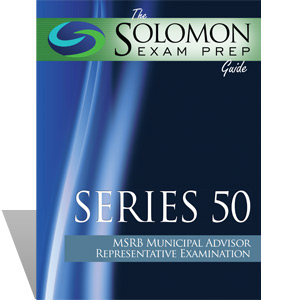 The MSRB recently announced that the Series 50 permanent exam will be available starting on September 12, 2016.  The Series 50 pilot exam, which was a precursor to the permanent exam, was available from January 15, 2016, to February 15, 2016, and helped to set the permanent exam passing score of 71%.
In preparation for the release of the permanent exam, the MSRB updated the Series 50 outline to reflect current rules.  Specifically, the following references were added to Function One of the outline:
Rules governing activities of municipal advisors (for example, professional qualification, fiduciary duty, and recordkeeping)
Rule G-20 ("Limitations on Gift Giving"), as it applies to municipal advisors
Rule G-37 ("Pay to Play" Rule), as it applies to municipal advisors
Rule G-42 ("Duties of Non-Solicitor Municipal Advisors")
The MSRB also removed the reference to Rule G-32 ("Disclosure in Connection with Primary Offerings") from Function One, most likely because this is more relevant to brokers, dealers, and municipal securities dealers than it is to municipal advisors.
Additionally, Function Two of the outline now refers to "rating agencies" instead of the "major three rating agencies."
Finally, the MSRB added three new sample questions at the end of the outline to replace sample questions 2, 3, and 4.
Solomon Exam Prep has helped thousands pass the Series 6, 7, 63, 65, 66, 24, 26, 27, 50, 51, 52, 53, 62, 79, 82 and 99 exams. For more information visit SolomonExamPrep.Com or call 503.601.0212.