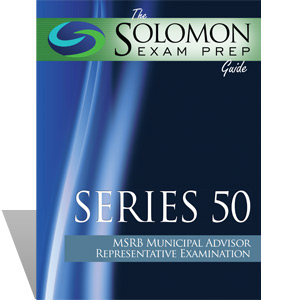 Today, the MSRB announced that they will make the permanent Municipal Representative Qualification Exam (Series 50) available on September 12, 2016. On that day, a municipal advisor will be able to open a 120-day examination window for a municipal advisor representative.
Also, anyone who took the Series 50 pilot exam was notified today whether or not they passed. Individuals who took the Series 50 pilot but did not pass will have an extended exam window of one year (September 12, 2016 – September 12, 2017) to retake the exam one time for free.
Other relevant Series 50 exam information:
The permanent Series 50 exam will have 100 questions.
The passing score of the permanent Series 50 exam will be 71%.
Students taking the permanent Series 50 will have 3 hours to take the exam.
The fee to take the Series 50 exam will be $265.
If you took and passed the Series 50 pilot exam and you stop working for a municipal advisor, your Series 50 qualification will remain valid for two years.
The MSRB is providing a one-year grace period during which individuals will be able to take the municipal advisor representative exam while still engaging in municipal advisory activities. That means that municipal advisor representatives are not required to have the Series 50 qualification until September 12, 2017.
Municipal advisor representatives may indicate that they passed the Series 50 exam but suggesting that passing the Series 50 makes you more qualified than someone who hasn't could be misleading and might get you in trouble with the MSRB or the SEC.
The Series 50 content outline is being updated and will be made available on the MSRB web site by July 1, 2016.
---
Solomon Exam Prep is updating its Series 50 materials based on customer feedback and based on regulatory and MSRB exam outline changes. Solomon Series 50 pilot students who did not pass the Series 50 pilot exam, will receive another 180-days of access to their Solomon Series 50 study materials. Please contact us either by phone at 503.601.0212 or via email (info@solomonexamprep.com) to have your account reset.
Follow us to keep up-to-date with all Series 50 updates and news!