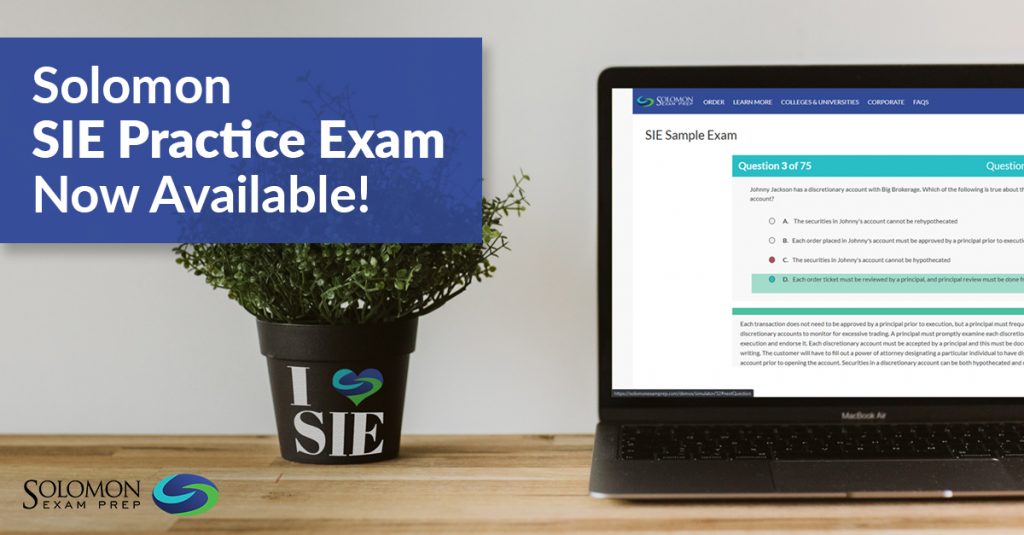 Meet the newest addition to Solomon Exam Prep's lineup of free Sample Quizzes: the SIE Sample Exam! Like all Solomon Sample Quizzes, the SIE Sample Exam features questions from our industry-leading Online Exam Simulator. Questions are written by Solomon content experts, who are experienced in both investment education and the process of adult learning.
But unlike other Solomon Sample Quizzes, the SIE Sample Exam is a FULL exam – it contains 75 questions, just like the real FINRA SIE exam – giving you an even better idea of what the actual exam is like. You will encounter easy, medium, and difficult questions so that you can more easily gauge your current knowledge of SIE content.
All Solomon Sample Quizzes and Exams also provide instant feedback for each answer, with a full rationale to help you understand the WHY behind the what. Plus, you get a report at the end detailing your results and giving you the opportunity to review all the questions. 
Visit the Solomon website here to try out the SIE Sample Exam and explore free samples of quizzes for 21 different exams.