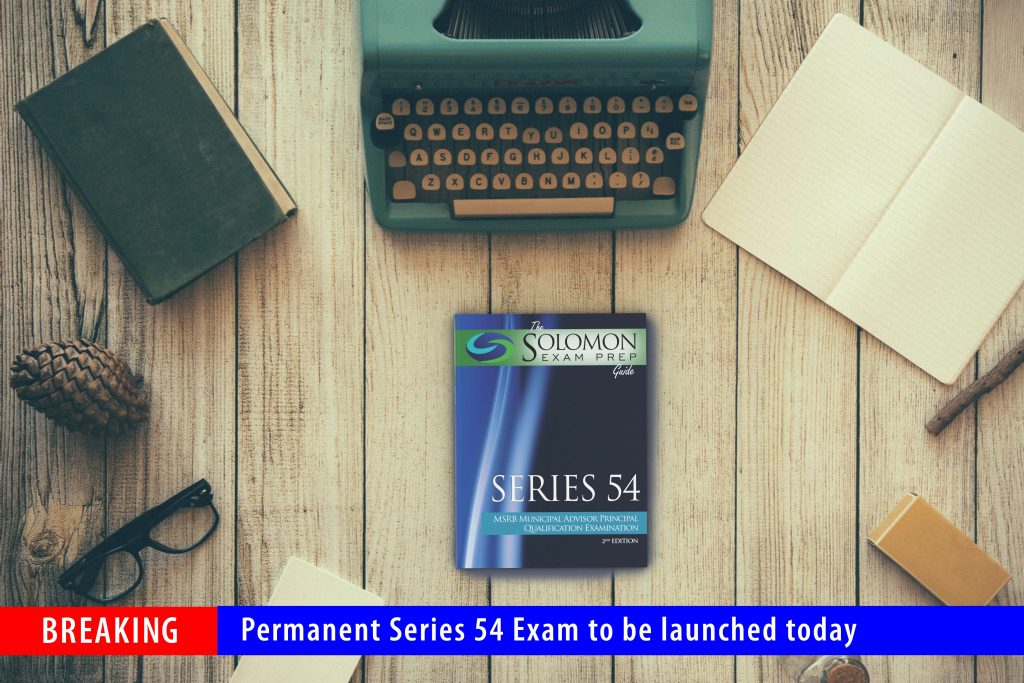 According to MSRB, the permanent Municipal Advisor Principal Qualifications Examination will be available from today, November 12th, 2019 under Rule G-3. Passing this exam will enable municipal advisor principals to engage in the management, direction and supervision of the municipal advisory activities of municipal advisors and their associated persons. The passing score for this exam is 70%. An individual must already hold a Series 50 license as a prerequisite for sitting the Series 54 examination. However, the MSRB has provided a one year grace period expiring on November 12th, 2020, for persons who are qualified under the Series 50 examination to continue functioning as a municipal advisor principal and actively engage in the management, direction, and supervision of municipal advisors and its associated persons Such persons must qualify under the Series 54 examination to continue as a principal beyond the grace period. The MSRB does not plan to publish names of those who have obtained their Series 54 license.
 
Solomon Exam Prep is committed to providing study material which best reflects the content in the Series 54 Exam, and had many students successfully pass their pilot examination. Since receiving a revised outline from MSRB as well as feedback from customers, Solomon has updated its content to best meet the MSRB outline, and has now released a new Second Edition Study Guide available. Jeremy Solomon, president of Solomon Exam Prep, notes that the only addition to the final Series 54 outline was MSRB Rule G-40 which prohibits municipal advisors from publishing false or misleading advertisements concerning the services of the municipal advisor or the engagement of a municipal advisory client or concerning the facilities, services or skills of any municipal advisor, establishes specific content standards for advertisements and requires a municipal advisor principal to approve advertising in writing advertisements prior to first use.
 
As explained in Solomon's previous Series 54 announcement, Solomon Exam Prep customers who sat the pilot exam and did not pass will be provided with a complimentary 6 month renewal of revised materials. Solomon Exam Prep is also offering a special 10% discount coupon to its Series 54 pilot customers for updated materials, good until 31st December 2019. This offer applies to packages only, and is available to individuals and firms.