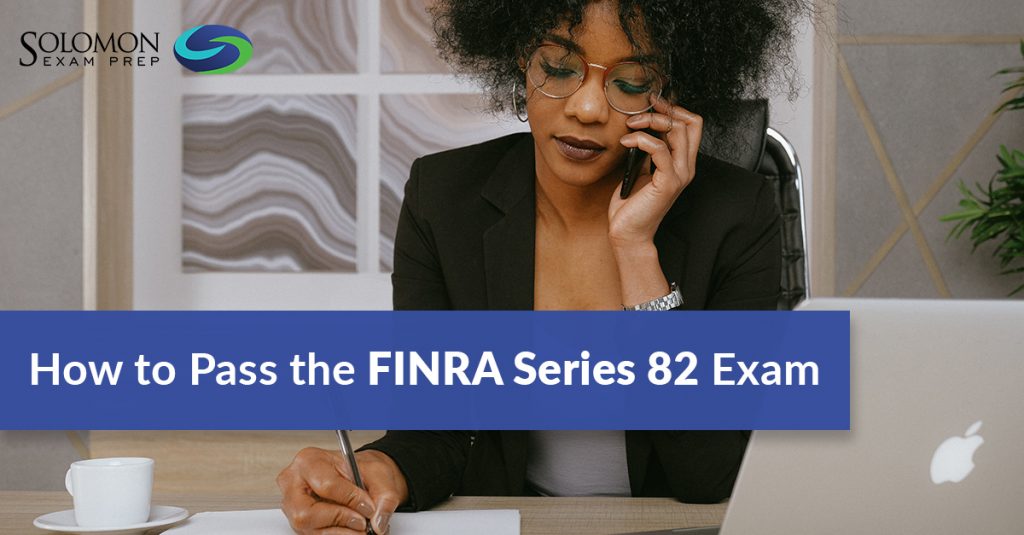 What does the Series 82 exam allow me to do?
The Series 82, also known as the Private Securities Offerings Representative Exam, is a FINRA exam that qualifies you to sell private securities in a primary offering. A primary offering refers to the first time the securities are offered for sale. Once a security has been issued and sold it is no longer a primary offering, instead if the security is subsequently resold it is termed a secondary offering. The sale of private securities sold in a primary offering is often referred to as a "private placement." Another way of saying this is that the Series 82 exam qualifies you to sell private placements.
The Series 82 exam is considered a "top off" exam because you must also pass the Securities Industry (SIE) exam to be fully qualified. While the SIE exam tests your knowledge of securities industry products and rules, the Series 82 tests your specific knowledge of the rules and processes related to structuring and selling private placements. The Series 82 is a fairly difficult exam that requires approximately 60 hours of study.
Passing the Series 82 exam does not allow you to sell publicly registered stocks or bonds, nor does it permit you to sell municipal or government securities. Also, the Series 82 does not permit you to structure or sell public offerings, such as IPOs.  
You must be associated with a FINRA member firm in order to take the Series 82.
About the Exam
The Series 82 exam consists of 50 multiple-choice questions covering the four sections of the FINRA Series 82 exam outline. FINRA updates its exam questions regularly to reflect the most current rules and regulations. The Series 82 also includes five additional unscored questions that FINRA is trying out, so the Series 82 exam contains 55 questions in total. The 5 unscored questions are unidentified and are distributed randomly throughout the exam.

Note: Scores are rounded down to the lowest whole number (e.g. 69.9% would be a final score of 69%–not a passing score for the Series 82 exam).
Topically, the Series 82 is divided into four sections:

Topics Covered on the Exam
The Series 82 exam covers many topics including the following:
Types of securities offerings with an emphasis on exempt offerings, such as private placements, Reg A offerings, Rule 147 offerings and private investment in public equity (PIPE) offerings
Underwriting commitments including firm, best efforts, mini-max and standby
Mechanics of exempt offerings
Determination of qualified institutional buyer (QIB) or accredited investor status
Content and purpose of offering documents such as private placement memorandums (PPMs)
Investor portfolio concerns, such as tax considerations, suitability, product risks, diversification, appropriate mix of assets, risk tolerance
Securities Industry rules related to exempt offerings
Question Types on the Series 82
Question:
What entity can receive material, nonpublic information from an issuer without public disclosure?
A. Financial publication
B. Broker-dealer that makes a market in the securities
C. Law firm hired by the issuer
D. Investment company
Finish the statement:
Offerings of securities are categorized by who receives the proceeds of the offering. In a primary offering, the proceeds go to the:
A. Issuing corporation
B. Major stockholders
C. Underwriting broker-dealer
D. Issuing corporation, major stockholders, and principal underwriter
Fill-in-the-blank:
The underwriting of private placements is typically conducted on a _____ commitment basis.
A. Firm
B. Best efforts
C. Shelf
D. Standby
"Except" statements:
Under Regulation D, Rule 504, a private placement must meet all of the following requirements except:
A. The offering price must be less than or equal to $5 million.
B. The offering price must be more than $5 million.
C. If multiple offerings occur during a 12-month period, they are added together when determining whether the Regulation D, Rule 504 exemption applies.
D. The total number of purchasers is unrestricted.
Study Strategies for the Series 82
Use all the resources. The Resources folder in your Solomon student account has helpful information, including a "fast facts" sheet for last-minute studying, and a detailed study schedule that you can print out – or use the online study schedule and check off tasks as you complete them.
Watch the Video Lecture. This provides a helpful introduction to the key concepts in each chapter before diving deeper into the content by reading the Solomon Study Guide. Take notes to help you stay focused.
Read. It's simple: read the Study Guide, carefully. Many report that they read the Study Guide two or three times before taking the exam. To increase your ability to focus while reading, or as an alternative to reading, listen to the Solomon Audiobook, which is a word-for-word reading of the Solomon Study Guide.
Take handwritten notes. As you watch the Video Lecture and read the Study Guide, take handwritten notes and review your notes every day for 10 to 15 minutes. Studies show that the act of taking handwritten notes in your own words and then reviewing these notes strengthens learning and memory.
Make flashcards. Making your own flashcards is another powerful and proven method to reinforce memory and strengthen learning. Solomon also has digital flashcards available for the Series 82.
Research. Research anything you do not understand. Curiosity = learning. Students who take responsibility for their own learning by researching anything they do not understand get a deeper understanding of the subject matter and are much more likely to pass. And if you're stuck on a content question, submit it via the Ask the Professor feature, which is included in study packages, to receive a personalized response within one business day.
Answer practice questions in the Exam Simulator. When you're done with a chapter in the Study Guide, take 4 – 6 chapter quizzes in the Exam Simulator. Use these quizzes to give yourself practice and to find out what you need to study more. Make sure you read and understand the question rationales. When you're finished reading the entire Study Guide, review your handwritten notes once more. Then, and only then, start taking full practice exams in the Exam Simulator. Aim to pass at least six full practice exams and try to get your average score to at least an 80. When you reach that point, you are probably ready to sit for the exam.
Take regular breaks. Studies show that if you are studying for an exam, taking regular walks in a park or natural setting significantly improves scores. Walks in urban areas or among people did not improve test scores.
Get a good night's sleep and take your exam!
You can pass the FINRA Series 82! It just takes work and determination. Solomon Exam Prep is here to support you through the test-prep process!