Solomon Exam Prep has been publishing study materials for securities exams for over ten years. Keeping our materials up-to-date and constantly adding product offerings is just part of the reason why Solomon Exam Prep boasts a first-time pass rate of 92% across all exams with thousands of happy customers.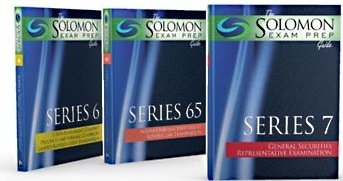 To ring in the New Year, Solomon Exam Prep is pleased to announce the publication of new Exam Study Guides for the FINRA Series 6, FINRA Series 7, and NASAA Series 65.
President and founder Jeremy Solomon emphasizes the importance of up-to-date study materials: "Once upon a time, you could use an old textbook from a friend and expect to pass your Series 7.  In those pre-Dodd-Frank and Bernie Madoff days, regulations and securities licensing exams in particular, didn't change that often. Today like everything else, the rules and the exams change at a dizzying pace. Financial scandals, and the changing views of Congress, the regulators and the courts, mean that students who want the best chance of passing need current materials. Even more so now that the required passing scores of many exams have been increased. The bar has never been higher."
With detailed explanations, visual study aids, and example questions, these new Study Guides will keep you engaged as you prepare for your exam. Solomon Exam Prep also produces Online Exam Simulators, Audiobooks and On-Demand Study Courses to make learning even easier. Check out the Solomon Exam Prep website for the full suite of product offerings: http://solomonexamprep.com.​
Updated for 2015, Solomon's Exam Study Guides are the key to helping you pass your exam!